Even Rihanna is impressed by this fan singing "Four Five Seconds"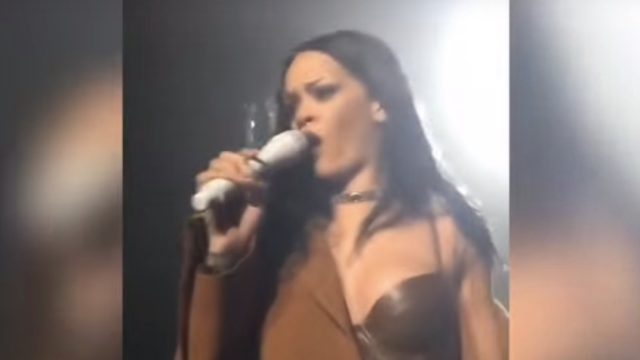 When you go to a Rihanna concert, you probably expect the main event to be Rihanna herself. But one fan who attended the singer's performance in Cincinnati over the weekend, completely stole the show.
By chance, Terah Jay happened to be in the front row where Rihanna was holding out her microphone inviting fans to sing a few lines of "Four Five Seconds." Most people are understandably freaked out by singing in front of an entire stadium and half-heartedly warble a few words. But when it was Jay's turn to sing, something completely unexpected happened: he was incredible.
According to TMZ, Terah Jay is a a lifelong choir student with the hopes of making it big on Broadway. His voice was so perfect that Rihanna herself was amazed, taking a moment to pause before handing the microphone back over so he could continue wowing the crowd with his rendition of the song.
Since the iconic moment hit the Internet on Sunday, TJ has been overwhelmed with support, hearing from people all over the world who want to encourage him.
TJ continues to use social media to express his thanks, taking to both Twitter and Instagram to spread the love.
After making such a great impression, we're sure we haven't heard the last of this singer. Next stop, Broadway! Just make sure to save Rihanna a seat in the front row.