Rihanna posted a powerful message about gun violence after her cousin was killed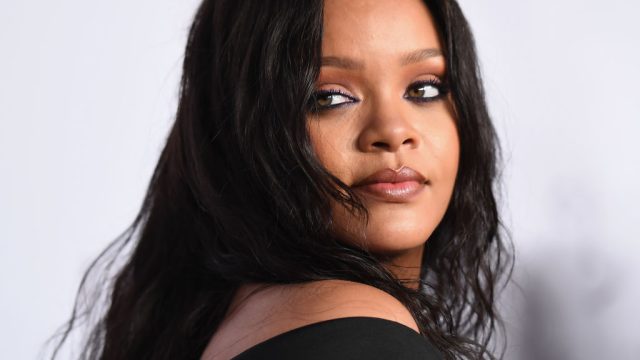 Even when tragedy strikes, Rihanna says exactly what she thinks — which is just one of the many reasons we love her. After her cousin was shot on Christmas night, Rihanna posted a message about ending gun violence. Her first cousin, 21-year-old Tavon Kaiseen Alleyne, was shot and killed by a man who approached him while he was out walking in Barbados.
Rihanna honored Alleyne by posting a series of photos of them together on Instagram. She captioned the pics, "RIP cousin… can't believe it was just last night that I held you in my arms! Never thought that would be the last time I felt the warmth in your body!!! Love you always man!" Then, she got serious by adding the hashtag #EndGunViolence. The message was short, but powerful all the same. Hopefully, Rihanna will get her wish and some justice for her cousin.
According to Barbados Today, 2017 was an especially violent year for the small country. There were 28 murders up until November, and 22 of them were committed with a gun. Barbados Attorney General Adriel Brathwaite vowed to crack down on guns in August after a young man was killed at a music festival.
"We do still have too many firearms in the hands of young gang members and we will provide more resources to remove these guns from our streets. This will not happen immediately and will require all hands on deck," Brathwaite said.
Rihanna often speaks up on issues close to her heart.
She rallied around Cyntoia Brown, a young woman who is in jail for murdering her sexual abuser. And she supported Saudi women when their driving ban was lifted. But this is the first time that Rihanna has spoken out about gun violence in particular. She's in good company, given that so many celebrities with platforms like hers have spoken out about gun violence here in the U.S., especially this year.
According to the Gun Violence Archive, there were over 60,000 "incidents" this year with guns and 15,331 deaths.
Of those, 341 of them were mass shootings.
The only way to stop these deaths is if lawmakers work hard on reforming how people buy and use guns. But with celebs like Rihanna drawing attention to the issues, maybe there's a chance that will happen sooner than we think.