Rihanna celebrated her 'ANTI'-versary on Instagram with behind-the-scenes photos from the recording process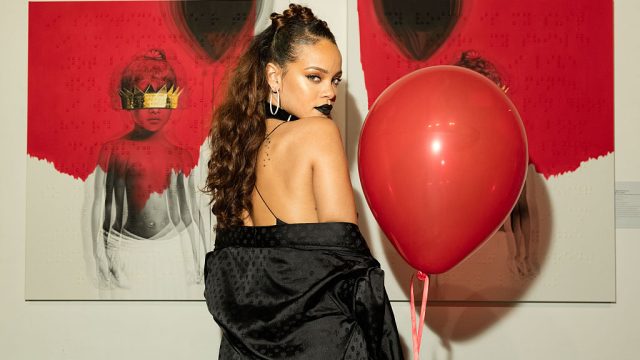 Can you believe it's already been a full year since Rihanna released her highly anticipated eighth album? We certainly needed a minute to process this, and the singer's one-year anniversary celebration of Anti's release totally helped us work through all the feelings we have about the record.
As US Weekly reports, the "Love on the Brain" singer posted a series of behind-the-scenes photos on Instagram that show her in her musical element during the creation of Anti. We've already determined that Rihanna is hands down the world's best boss, and now we have these photos she shared from her recording sessions to confirm why she's possibly the most chill person to work for.
Um, hire us, Rihanna?
When it came time to record the album, the Ocean's 8 star described how she grappled with — and ultimately overcame — a lack of inspiration in order to bring us what is widely regarded as some of the best new music of 2016.
"I was numb for a while …numb to all the bullshit and numb to all the good shit," Rihanna wrote in a lengthy Instagram post. "But I was determined not to settle for what everybody thought this should be, or when they thought it should come, or how! I stuck to it until I felt something again!"
We love that message of sticking to your guns, having self-confidence and trusting your instinct, even when it goes against popular opinion.
And to think, people actually believed Rih was throwing shade at Beyoncé over a supposed Grammy snub, but clearly Rih doesn't need anyone's co-signs. We're sure she appreciates those Grammy nods (all eight of 'em), but she honestly seems too busy giving herself and her team a pat on the back to get hung up on external validation.
But that's typical Rihanna, displaying her unshakeable confidence and DGAF-ness that we so love her for.
Happy Anti-versary, Rihanna!