Rihanna was a bridesmaid in her friend's wedding, and we've had that exact dream before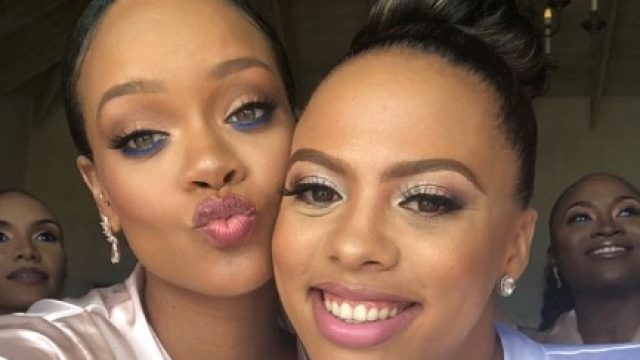 When you've got "Love on the Brain," who else would be better to celebrate with than Rihanna? For a few select people in this world, they get to do just that. As all of RiRi's fans know, the Barbados-born beauty has a close group of friends from her hometown. And one of them got married on Saturday, August 18th. You probably see where this is going, right? Rihanna was a bridesmaid in her friend's wedding in Barbados, and everyone should probably just take a second to let that sink in.
Metro reports that Rihanna's longtime friend Sonita got married in a beautiful ceremony featuring 10 bridesmaids in royal blue. RiRi posted photos from the special event on her Instagram Story. And it all just seems so…normal.
Of course, RiRi looked incredible in all the wedding photos that she and her friends posted on social media. But then again, she definitely doesn't seem like she's stealing the spotlight on her bestie's big day. In fact, in one of the photos from the wedding, RiRi is in the back of the bridal party's group shot. Seriously, you have to squint to see her. Usually, you can spot her from a mile away.
The sign of a true friend is that they make sure you get to stand out on your special days. Whether it's a birthday or a wedding day, even superstars can celebrate their BFFs.
Rihanna seems like the perfect bridesmaid, TBH.
She wore the assigned bridesmaid dress just like everyone else, she matched her hair to look like everyone else, and she wore the same makeup as everyone else. (It was probably Fenty though, let's be real.)
https://www.instagram.com/p/Bmo0Kf5CS6B
Leave it to Rihanna to make a bridesmaid dress look like couture.
https://www.instagram.com/p/BmpKpE4imQU
Look, being a bridesmaid isn't always the most fun job to have. Some might say it's "work work work work work." But it definitely seems like Rihanna was up to the task.
Then again, RiRi and her friend Sonita go way back. So to the bride, Rihanna probably doesn't even seem like the bad gal superstar that she is. Just look at the throwback photo Sonita posted of the two beach babes.
RiRi posted pre-wedding photos and had no qualms with being a supportive player that day.
What a great friend.
Next time you're tasked with bridesmaid duty, just remember: even Rihanna has to do it.