Rihanna put a bad gal twist on an "Anne of Green Gables"-inspired puff-sleeve dress
Rihanna is a lot of things. Sexy, talented, bada$$, fearless, cool…the list goes on. Topping the list of reasons we love Rihanna, though, is how unexpected (and grand) her fashion choices are on the red carpet. On Saturday, the "Wild Thoughts" singer wore a very ladylike dress to the Fenty x Sephora launch party in Madrid — but it had a decidedly Rihanna-esque feel to it.
Call us old-fashioned, but this dress — with its over-exaggerated sleeves — gave off major Anne of Green Gables vibes. If you haven't read the book or seen the film, Anne of Green Gables is a story set in the late 1800s in which "puff sleeves" are all the rage. The main character, an orphan named Anne, is over the moon when she's gifted a dress that has puffed sleeves. So clearly Rihanna's familiar with the tale — or she's just up on her Victorian-era fashion trends.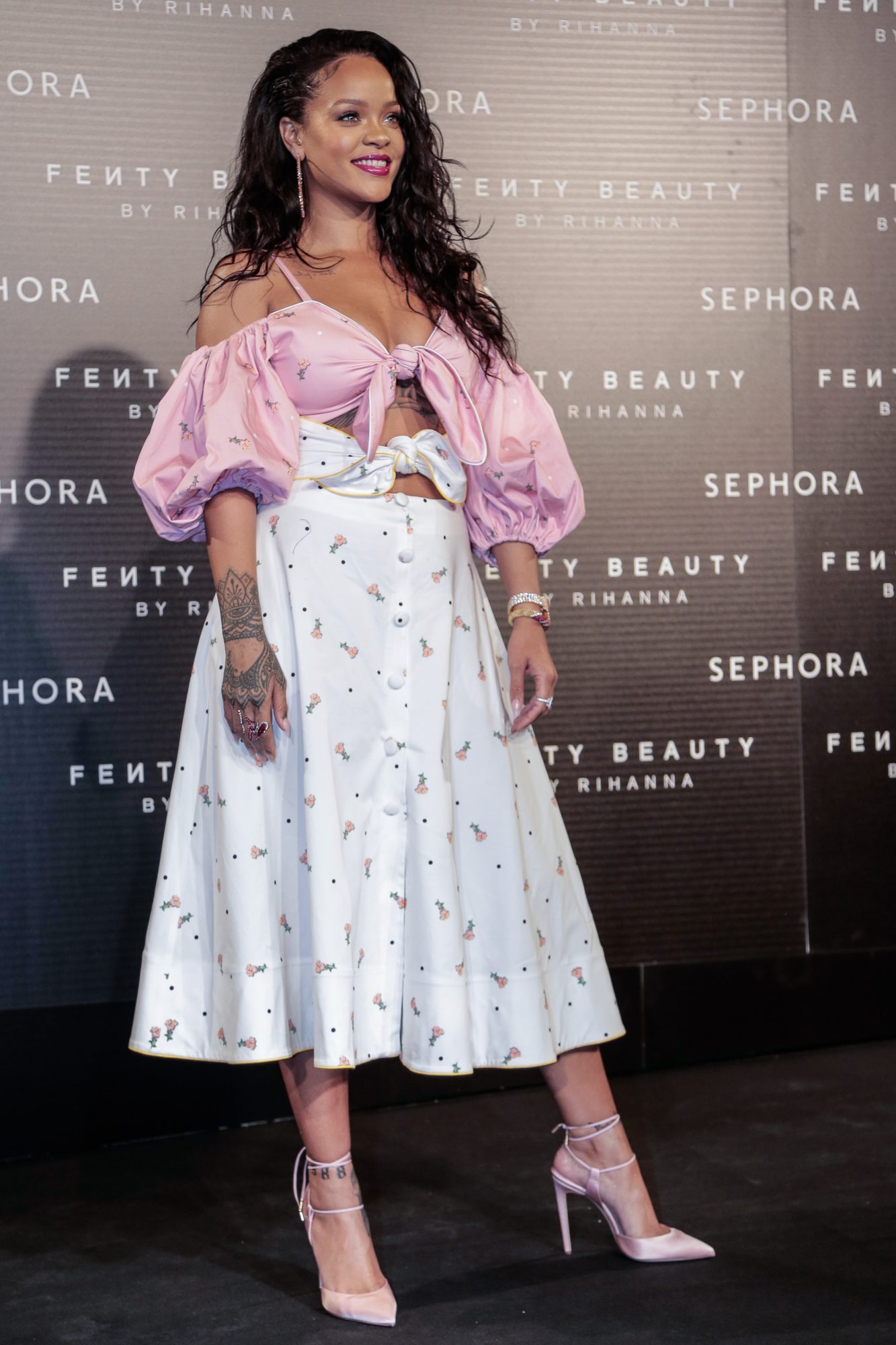 Either way, we can't get enough of the dress RiRi wore during Saturday's stop in Spain to promote her Fenty Beauty by Rihanna line. The dress, which had feminine cutouts below the breast line, made Rihanna look…shall we say, princess-like? Really, though, this is one of the more girly things we've seen the artist wear in a while. And we have to say, she looks radiant.
https://www.youtube.com/watch?v=BHNYItAZlkQ?feature=oembed
To her color-blocked look, the star added jewelry by Chopard and classy, lace-up pointed-toe pumps. For her hair, Rihanna embraced a wavy texture and kept her makeup simple, minus a bright berry lip that popped against her bronzy skin.
Clearly, the artist was feelin' herself in this ultra-femme look as well. On Instagram, the artist posted this photo and captioned it: "@fentybeauty #GALAXY holiday collection!!"
While it isn't likely we'll ever know if Anne of Green Gables had anything to do with RiRi's fashion choice, the literary nerd in all of us wants to believe that was the case. Sleeves, anyone?