Rihanna and Drake went to a kid's birthday party last weekend, because everyone has awkward ex moments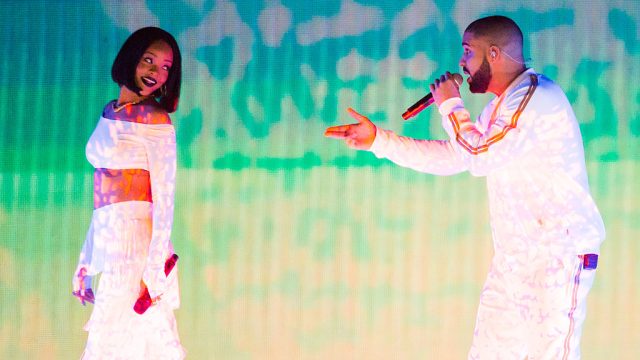 If you're one of those people hopelessly still wondering if and when Rihanna and Drake will just get back together like the hip hop version of Ross and Rachel that they sort of are, there's a new video from this weekend that will only add some intrigue to the whole thing. Rihanna and Drake were both at the same children's party this weekend, according to an Instagram Story from verified user, TheShadeRoom. Now try to calm down before you start picturing them wandering down the aisles of Toys R Us, Rihanna in some Fenty Pumas, picking out the best birthday present for some mutual friend's kid, domestically blissful. That is not what happened.
In reality, it was awkward as hell.
Rihanna showed up to the party with her best friend, according to the post (and wearing a killer camo-inspired poncho-type hoodie, BTW) and in the videos, we never see Drake and Rihanna in the same frame, sipping lukewarm soda or something from the kiddie buffet table.
But they were both there. Rihanna seems low-key into the kids playing in the ball pit and Drake looks like he was sulking in a corner somewhere all by his lonesome. Actually, he looks really nervous. But again: We don't know if they were there at the same time, or if they might have just missed each other.
If anything, the video shows that these two might not be on the super best terms since they parted ways in October 2016, just a few months after that heartbreaking MTV VMAs speech Drake gave about how much he loved and adored Rihanna. Back in October, a source told XXL:
"Rihanna and Drake are seeing other people at the moment. They are not exclusive anymore. They still love each other, but their schedules have gotten in the way.
Well, obviously there schedules aren't that different anymore if they're at the same children's birthday party (of all the things).