Rihanna accessorized her outfit with a giant Santa belt, because, well, she's Rihanna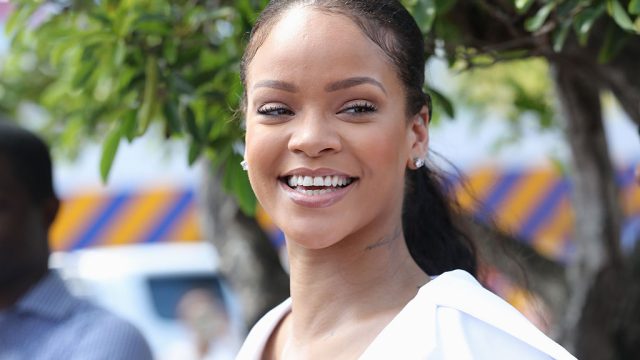 The New Year is right around the corner, and what better time to update your look? Trying something totally new — and festive! — this week was Rihanna, rocking a gigantic Santa-inspired belt over a silk blazer. The effect? Actually quite dazzling, if you ask us.
While out to dinner at Giorgio Baldi restaurant in Los Angeles — where Kim Kardashian West and Kanye West dined earlier this week — Rihanna offered a nod to the holiday season in a black jacket cinched at the waist with her extra-long red belt from Maison Margiela, and paired her look with distressed light-blue jeans and black heeled boots.
Peep her holiday style!
https://www.instagram.com/p/BOSfY5dhfuZ
Santa baby, indeed!
Take a closer look at that oversized etched buckle. It looks like she snatched it straight from Santa himself.
https://www.instagram.com/p/BOSfKcfgoiv
All jokes aside, we actually love this ensemble. It would be easy to recreate for any holiday party and the cute/comfy ratio is just right for Christmas dinner (you could totally undo that buckle a notch or two after your meal) — so, basically, we're ready to go out and scoop up our own version of this jolly old accessory.
Aside from this outing in L.A., RiRi's been spending most of her time in New York lately while filming the forthcoming Ocean's 8, and her outfits there have been *almost* as exciting as her red Santa look. (Kidding, literally all of Rihanna's outfits are exciting.)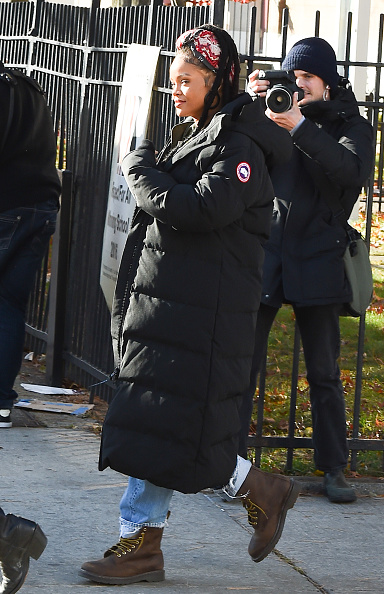 The common thread tying all of her winter outfits together, though, is definitely an oversized quality. Every single one of her NYC coats has been massive, and we're now all quite familiar with her giant belt. Is this what's next for our favorite fashion icon? If so, we're not complaining!