Rihanna just became the first female artist to reach 2 billion streams on Apple Music, and she should definitely take a bow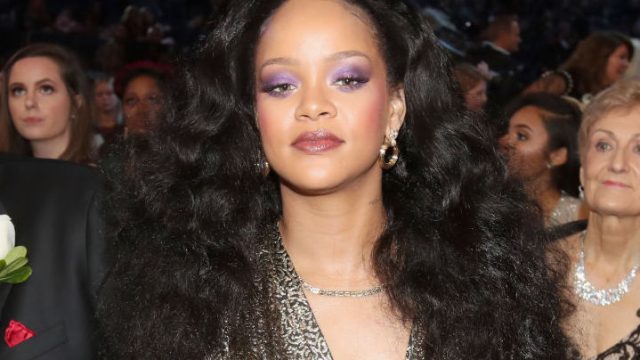 Ri Ri. Bad Gal Ri Ri. Robyn, or Ms. Fenty, if you're nasty. Whatever you call her, there's no doubt that Rihanna is killing the game. Or I guess we should say games, because she does it all. Her Fenty Beauty line — that's expected to outsell both Kylie Cosmetics and KKW Beauty — has been widely praised for catering to women of all shades. She's reportedly starting a lingerie collection. And now, the Barbadian beauty can add another accolade to her already impressive career. The singer, who turned 30 in February, just became the first female artist to reach two billion streams worldwide on Apple Music.
Yes, two billion. That number doesn't even seem fathomable. But it was certainly attainable for her Rih, who released her first album in 2005. In true Ri Ri fashion, she made sure to celebrate in a hilarious and sweet way. On her Instagram, she shared a viral video of adorable children dancing and captioned it, "When I found out that I was the first female artist to cross 2 billion worldwide streams on Apple Music! God is too lit!!!!"
Judging by all of those exclamation marks, we'll assume that Rihanna is elated. And why wouldn't she be?!
Apple Music made the announcement on International Women's Day, making the milestone even that much sweeter.
https://www.instagram.com/p/BgEX3W5jq3A
Other amazing female artists with top streams include Taylor Swift, Beyoncé, Ariana Grande, and Adele, who rounded out the top five.
Many of Apple Music's top albums and songs of 2017 were made by men like Drake, Ed Sheeran, and Bruno Mars. The only women on the list for top songs or singles were Taylor Swift for "Reputation" and Halsey, who was featured on The Chainsmokers' "Closer." So yeah, we're happy to see female musicians receiving tons of shine and streams.
Congrats, Ri Ri!