7 ridiculously easy ways to add more protein to your daily diet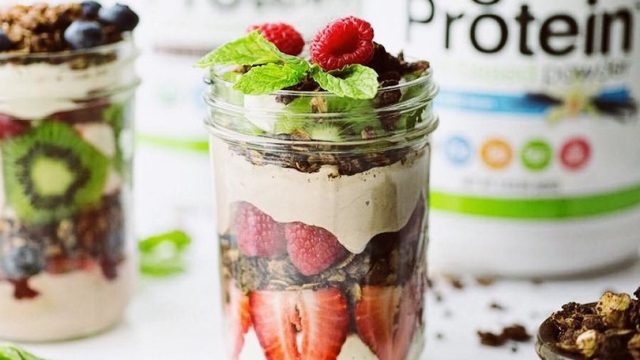 Just about everyone agrees on this one thing when it comes to a healthy lifestyle: We all need a good amount of protein every single day to feel great. The U.S. Department of Agriculture recommends we eat 0.37 grams of protein per pound each day, so for a woman who weighs 130 pounds, that equals 48 grams. That's about seven ounces of salmon.
It really doesn't sound like a tall order, but life gets in the way sometimes, and it's all too easy to get all the way to dinner and realize that you're exhausted and cranky—all because you simply haven't had enough protein that day.
If this sounds familiar, we have good news for you. With a minimal amount of effort and planning ahead, you can totally revamp the way you consume protein on a daily basis.
It supports healthy cellular structure, regulates hormones, and builds antibodies that fight infection. You simply can't live without it.
Here are seven super easy ways to add more protein to your daily routine.
1Toss some protein powder into a smoothie every morning
Smoothies are a fantastic way to get all your nutrients in when you're in a rush. Start with the basics, like almond milk and your favorite protein powder. Then add in all your favorite goodies: banana, spinach, cinnamon, frozen berries, etc.
If you're not sure where to start, go with Orgain Organic Protein Powder. It's a one-stop shop for 21 grams of plant-based protein, which probably makes up nearly half of your required daily intake. Most importantly, it tastes divine and will make you feel like you're having a sinful treat for breakfast. There's no added sugar, no gluten, no soy — just all-natural goodness.
Another great option is Nourish and Bloom. Their Whole Food Shake has 25 grams of plant-based protein, and you can choose from Dark Chocolate Truffle or Vanilla Spice. You'll also get a solid serving of fiber and greens.
2Make protein balls in bulk on the weekend
The hardest times to keep up your healthy diet is when you're super busy. That's why it pays to meal prep on the weekends, so you don't have to put too much thought into your food during the week.
If you want some delicious, energy-rich snacks to enjoy while you're at work, make these Chocolate Protein Balls. Orgain gives you a recipe so easy, you could make it while you're still half asleep. It only requires five ingredients, and you'll have plenty of goodies to last you all the way until Friday.
3Swap out cereals and breads for eggs or tofu
It might seem easier to simply pour some cereal into a bowl when you're running late on a Monday morning, but you'll gain a lot more if you invest a little extra time and effort into a protein rich meal. Make yourself some eggs or whip up a quick tofu scramble. You'll have a clearer head and more energy throughout the day.
4Opt for quinoa instead of rice
You can choose to eat quinoa instead of rice in pretty much any circumstance. Whether it's with a stir-fry or a curry, you can enjoy quinoa just as much as its carbohydrate-rich cousin. One cup of quinoa has over eight grams of protein, and it's low in fat and cholesterol. If you need an extra boost of energy during lunch, just toss a few scoops of it into a salad.
5Stock up on on-the-go protein drinks
We get it. There are some days when you simply don't have the time to make yourself a smoothie or cook up some scrambled eggs. No problem. When you do have some free time, make sure your fridge is stocked with convenient pre-made smoothies or drinks that you can grab when you're in a pinch. That way your body won't miss out on the nutrition it deserves.
The perfect choice is the Vega Protein Shake, which has 20 grams of protein, lots of greens and minerals, and four grams of fiber. Their chocolate flavor will make you feel like you've just been transported to a specialty chocolate shop, but a really healthy one.
Another great choice is the Orgain Organic Nutritional Shake. It comes in four different flavors (we highly recommend the Iced Café Mocha) and they're all full of 16 delicious grams of plant-based protein. Put a few six packs in your fridge and you'll be ready to face whatever comes your way.
6Add some protein powder into your breakfast dishes
Give your favorite breakfast meals the ultimate upgrade by adding in a serving of much needed protein. Nourish and Bloom has got you covered with these 5-Ingredient Banana Protein Pancakes.
You probably have the first four items in your kitchen already, and all you need to add is Nourish and Bloom's Vanilla Spice Whole Food Shake, which pretty much tastes like a cupcake. Your morning just got a whole lot more enjoyable.
Or you can try something completely different and make this strawberry parfait inspired by Orgain. Layer in all your favorite things, from fruits to chia seeds to fresh mint, and see how energetic you feel afterwards.
7Always have protein bars in your bag
Being stuck in traffic while you're starving is something we wouldn't wish on our worst enemies. We all run into these situations every now and again, where we're stuck with an empty stomach. Protein is your best friend in these scenarios, and that's where snack bars come in.
Get yourself a box of Vega Sport Protein Bars, which are made with only the best plant-based ingredients. No preservatives or unknown chemicals to be found in these bars. Choose from Chocolate Caramel (our favorite) or Chocolate Peanut Butter, and while you munch on a rich, chewy snack, you'll be simultaneously filling your body with 15 grams of protein.
Toss a few into your purse when you're on the run, and you'll never be hungry again.