Former GOP Senator Rick Santorum insulted the Parkland survivors in one of the most infuriating interviews you'll see all year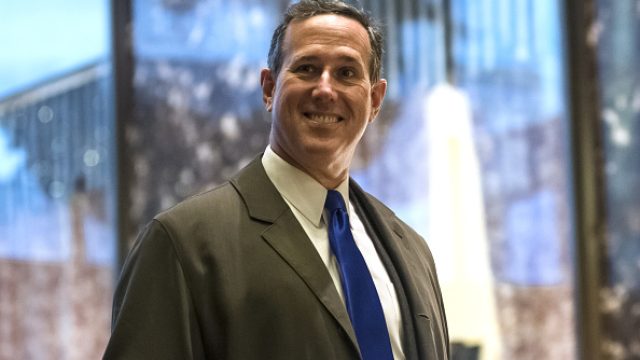 On March 24th, millions of people around the country gathered to call for gun control reform in the March For Our Lives. Some of the most passionate and outspoken activists in attendance were students. The 11-year-old Naomi Wadler raised her voice about violence against black women, and Parkland survivor Emma González gave an unforgettable speech. Even Martin Luther King Jr.'s granddaughter, Yolanda Renee King, was in attendance. But while many cheered on the protesters from social media, not everyone was supportive. Former Republican Senator Rick Santorum responded to the demonstration by saying that students should learn CPR instead.
Speaking on CNN's State of the Union on March 25th, Santorum argued that new gun control laws would not be effective and that students should instead focus on being able to respond to tragedy.
"How about kids instead of looking to someone else to solve their problem, do something about maybe taking CPR classes or trying to deal with situations that when there is a violent shooter that you can actually respond to that," Santorum said on the program.
https://www.youtube.com/watch?v=PWMsCO-Icg4?feature=oembed
Twitter users, including doctors, criticized Santorum's comments. One surgeon, Eugene Gu, who has operated on gunshot wounds, condemned the senator in a series of tweets.
Parkland survivor David Hogg, who has been at the forefront of the gun control movement, slammed Santorum's remark as well, saying the former senator would possibly have to "learn CPR for the NRA following midterms."
As Gu pointed out, CPR can't heal victims' gunshot wounds or prevent them from losing a life-threatening amount of blood. But more than that, Santorum is wrong that protesting amounts to students "looking to someone else to solve their problems." By marching, student activists are taking legitimate action to enact change. And worrying about gun violence shouldn't be students' problem to deal with in the first place. Measures designed to respond to shootings such as mandating clear backpacks in schools and teaching students CPR might help mitigate the effects of school shootings, but they won't stop them in the long run. We need to end gun violence, not just teach students CPR.