We've got a new look at Rey's costume for "Last Jedi," and she looks FIERCE
Our latest Star Wars heroine is officially suiting up to fight — but what? Kylo Ren? Another Jedi? Her, gasp, mentor and would-be Jedi trainer, Luke Skywalker? We're not exactly sure who Rey is going to face off against in Star Wars: The Last Jedi, but now we've got another look at just what she'll be sporting when she faces off against the Dark Side.
The first trailer for Last Jedi (which premiered the other week at Star Wars Celebration) showed Rey in a slight variation of her usual outfit. Images showed that she now has a cool cloak, since it apparently rains on Jedi Island. But now give a girl a lightsaber, and she's going to need some battle ready garb.
However, by pre-ordering the latest Star Wars game, Battlefront II, users are sent a special sneak peek at Rey's outfit for the upcoming sequel to Force Awakens. She's still very much got the long, flowing pieces of fabric draped around her, like we saw in the first movie. But now she's got a fancy belt! And long sleeves! Oh, and don't get us started on that blue lightsaber.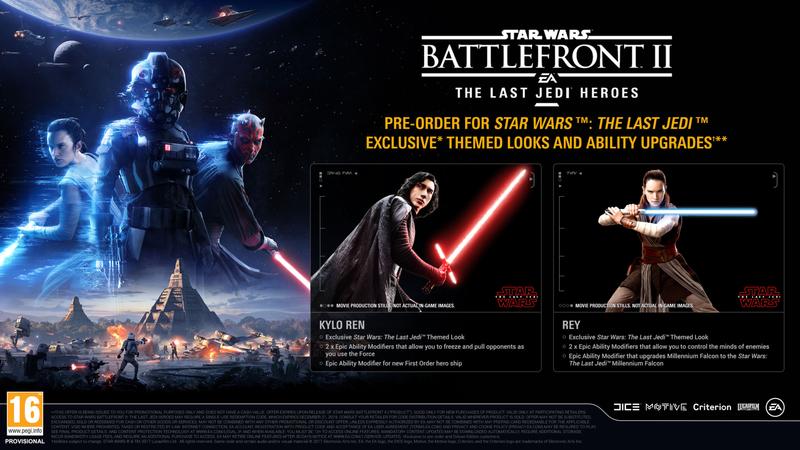 Oh yeah, Kylo Ren is here, but we'll get to him in a sec.
https://twitter.com/udfredirect/status/858015684588077056
false
Now, this look is supposedly an exclusive "first look" and "inspired by Star Wars: The Last Jedi." There's no indication that this will be Rey's ~official~ Jedi outfit, but she's got the lightsaber, so it must be pretty close.
Kylo Ren, on the other hand, is back in his usual all-black getup, and LOOK AT THAT SCAR. You know who gave him that scar? Rey. false
Can't wait to see what else she can do when The Last Jedi hits theaters in December.