These are the revolutionary women who inspired Princess Leia's iconic hairstyle
If you've been online over the last two days, there is no way that you could have missed the news of Carrie Fisher's passing. The iconic actress, brilliant author, and champion for mental health advocacy has impacted so many lives, and her legacy will no doubt have an impact on viewers and readers in the years to come.
But as we look back on the role that made her a household name — Princess Leia in the Star Wars franchise — her iconic bun hairstyle did more than just help solidify her stardom and pop culture legacy. It has an important revolutionary history behind it.
As Buzzfeed's Javier Moreno writes, the hairstyles of other revolutionary women helped bring Princess Leia to life on the big screen.
In an interview with Time back from 2002, Star Wars director George Lucas explained that he got the inspiration for Princess Leia's iconic buns from "turn-of-the-century Mexico":
"In the 1977 film, I was working very hard to create something different that wasn't fashion, so I went with a kind of Southwestern Pancho Villa woman revolutionary look, which is what that is. The buns are basically from turn-of-the-century Mexico."
And as explained in the BuzzFeed article, University of Texas professor Eric Tang posted a picture from Denver's Star Wars art exhibit, proving the connection.
In fact, scholars have found that Princess Leia's hair may also be a tribute to the "squash blossom" hairstyle worn by women of the Native American Hopi tribe.
The similarity is so striking.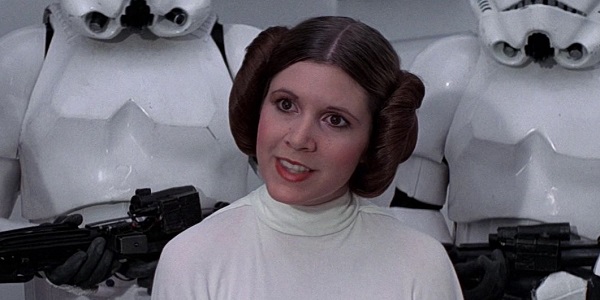 The women of Mexico and of the Hopi tribe couldn't have been better inspiration for the revolutionary Princess Leia.
The Hopi women have a long history of resisting colonial rule, and the hairstyle signified their maidenhood to others.
The best part? Both the Hopi women and Princess Leia showed us that there's more than one way to be a woman.