Revlon released a new blow dryer that will forever change the way you dry and style your hair
Let's not skirt the issue: sometimes, drying your hair is the pits. First off, it takes *forever* (why do you think we use so much dry shampoo?!). Our arms are not made of steel, and holding up a heavy hair dryer for an extended period of time can feel more like a lopsided workout than a quick beauty chore. Then, there's the fact that many folks (read: us) aren't masters of hair drying just yet, and sometimes it takes some serious flat ironing time to return our tresses to a somewhat-smoothe texture. Basically, it's just a hairy nightmare. Until Revlon's groundbreaking new 360 hair dryer, that is.
Sure, we've seen and tried our fair share of blow dryers. But nothing comes close to Revlon's. Because the Revlon Salon 360 AC Dryer not only offers the traditional hair-drying option, it also splits open to dry your hair vertically. As in, the dryer opens wide, you feed you hair through it, and it dries the front and back of your tresses down vertically for a faster, easier dry.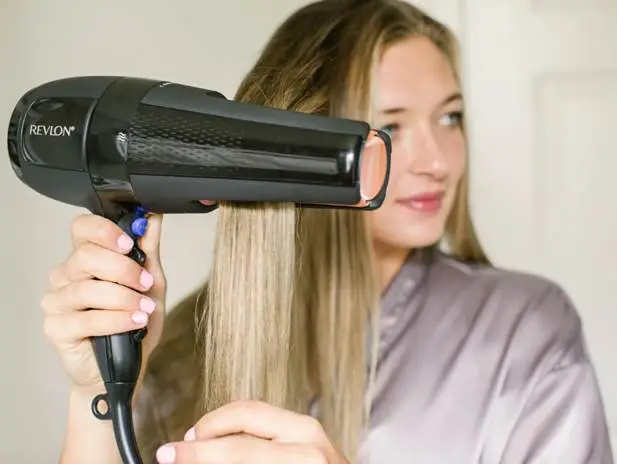 Genius!
https://www.instagram.com/p/BYpKCOlHKez
If this blow drying breakthrough sounds too good to be true, rest assured that it is not. The Dual Airflow System is a patent-pending technology that allows the heat styling tool to easily change directions. So you can still have your classic horizontal-blowing hair dryer for up-close root drying. Or, you can simply switch it over to the all-new vertical option, which activates targeted air jets for an all-over smoothing effect. And it's ~hella~ user-friendly.
https://www.instagram.com/p/BYetWgZHc00
Plus, this baby's packed with an ionic generator to create a silky-smooth dry, courtesy of all those negative ions. The hair dryer's ceramic coating also reduces heat damage, so you can feel virtually guilt-free while styling your hair.
https://www.instagram.com/p/BX6R9PvnEwD
Now, you'd be forgiven that thinking a heat styling tool like this might break the bank. But at just 60 bucks a pop, this gem is just as brilliant as it is budget-friendly. You can find it at your local Target, Ulta Beauty, and Walmart. But if you don't want to leave your bed, you can find it on Amazon as well.