The cast of "Pitch" wears nothing but their baseball gear and WOW!
Who knew baseball players could be so hot under those uniforms? Okay, we could've guessed, but we're happy to report that the cast of Pitch got naked — you know, no clothes, just their sports gear — and wow!
On Thursday night's episode of Pitch on FOX, things got steamy when the entire team stripped down to their birthday suits as a form of solidarity with their one female athlete, Ginny Baker, played by Kylie Bunbury.
For those of you who didn't tune into the hit baseball-centered show yesterday, we will explain. Earlier in the season, the main character, Ginny, who is the first female to play major league baseball, had to deal with a nude photo scandal, so this week her teammates decided to help her feel less awkward about the whole thing and pose naked as well — with their sporting gear of course.
In the episode, Mark-Paul Gosselaar, who plays the catcher Mike Lawson, and the rest of the fictional San Diego Padres team grabbed their mitts, batts and helmets to pose in a sexy and at the same time, empowering shoot that we are really digging.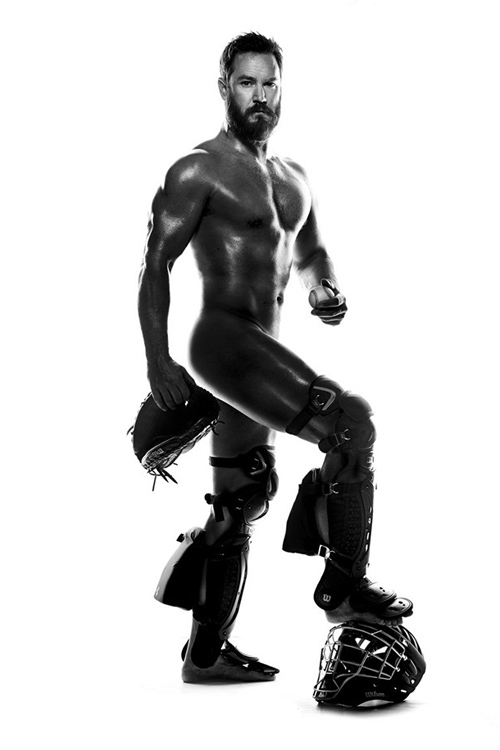 Okay, so Gosselaar has a little more covered than the rest of the team, but he is the catcher, so he needs his protective knee pads with him at all times, duh.
The rest of the cast aka Ginny's teammates got in on the black-and-white, naked photoshoot action for the fictional ESPN Body Issue, by posing in typical baseball positions, like swinging the bat or getting ready to throw the ball. We especially like Ginny's (who is depicted by Bunbury) pitching pose as she flaunts what she's got.
The fact that the cast is ridiculously good looking, doesn't help the cause either! To see what happens next on Pitch, tune in Thursdays at 9 p.m. on FOX.