"Saturday Night Live" added a few bros into "The Handmaid's Tale," and they weirdly fit right in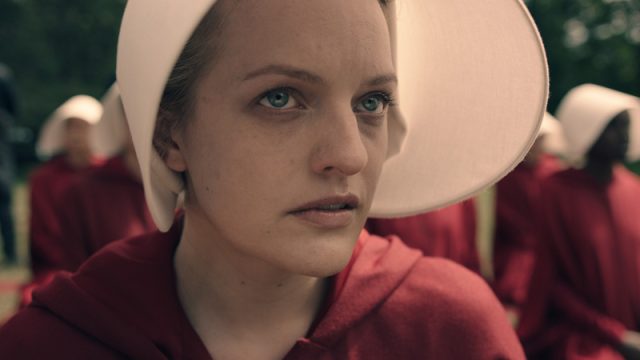 This week's episode of Saturday Night Live has a The Handmaid's Tale sketch that starts out a lot like Hulu's new show. And then a bunch of dudes show up.
As Aidy Bryant, Cecily Strong, Vanessa Bayer, and Sasheer Zamata walk through town in their red cloaks and white bonnets, they are approached by Chris Pine and Mikey Day. The guys don't seem to understand why the "girl squad" stopped hanging out with them.
"You guys missed my Cinco de Mayo half birthday! Did you flake or what?" Pine asks in a verrrry bro-y voice.
Then, the women proceed to inform them that their freedom has been taken away and they're forced to bear children for infertile rich people.
One of the more unnerving parts of an already pretty unnerving show is how the timeline works. Because in many fictional dystopias like The Hunger Games or Divergent, the "new" world has been in place for years. All the characters have ever known is that world.
But in The Handmaid's Tale, Offred and Ofglen had lives not too different from ours now just a couple years earlier. SNL manages to flick at this jarring change by asking, what if a bunch of dudebros just didn't get the memo?
"Damon, I don't know if you heard this thing about the women? It suuucks."
Yet while their exchange is funny, it's also pretty heavy. The men get to remain cheerfully ambivalent about what's going on, while the women suffer. At one point, one of the bros seems a little concerned. "Is there a protest or something?" he asks. Zamata responds, "Yes, several years ago." And he shrugs, "Ah, I meant to go to that."
Meanwhile, the women live in fear.
The sketch is probably a pretty accurate reading of what would actually happen if The Handmaid's Tale was real. Your favorite seemingly harmless bros transformed into the people who let this happen to you.
https://www.youtube.com/watch?v=4ydHjbKaL5A?feature=oembed