Planning a trip this summer? Netflix knows *exactly* what you should bring along for optimized binge-watching
If there's one positive to long stints in the car or plane, it's the ability to watch that Netflix movie you've been *dying* to see. However, we all know what it's like to miscalculate your travel time and not finish that film or show. If you don't do it correctly, you might never know if Shrek defeats Lord Farquaad or if Ryan Gosling gets the girl (in literally every movie).
Netflix knows how painful this is, and now the streaming platform has released a handy little guide to help us make the right choice for our in-flight or road trip watchlist.
Last fall, Netflix gave us the magical gift of allowing many of their shows and films to be downloaded onto a device, so we don't have to awkwardly log on to the closest WiFi network to enjoy our favorite shows.
Now, the company is further coming to our rescue by releasing a guide of downloadable shows and organizing them by time and length. So on that six-hour flight from New York to L.A., you can watch Love Actually, three standard episodes of Parks and Recreation, dabble in Riverdale for two episodes, and watch the new Louis C.K. special — with room for at least one bathroom break. Okay, so maybe that's a little too much variety, but you get the idea.
This infographic is just the tip of the iceberg in all things downloadable on Netflix.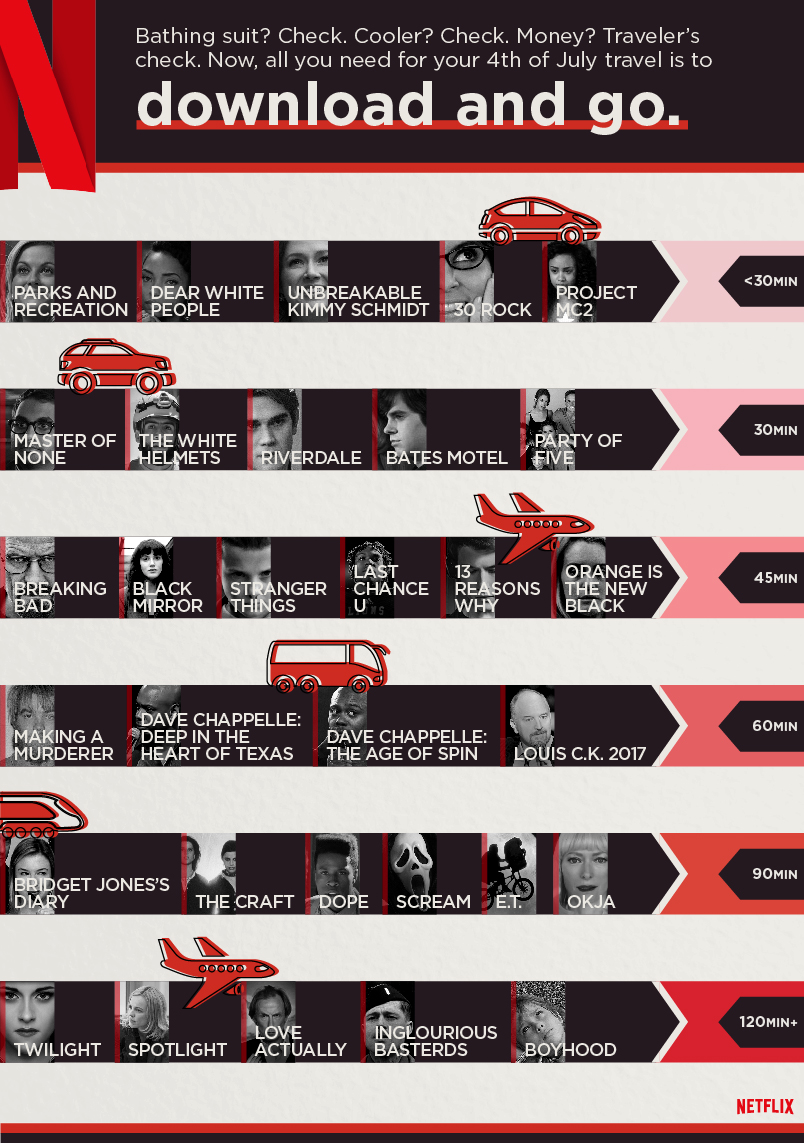 We love how Netflix is always thinking about us and how we can binge-watch effectively. Now we'll never have to wonder who Bridget Jones chooses in the end or who Ghostface turned out to be in Scream. Every title depicted in the infographic above will be available on Netflix for download on July 1st!