There was a mini "Buffy" reunion and it's so adorably fall themed we can't handle
When Sarah Michelle Gellar isn't busy kicking vampire butt, she's working in the food industry, and not at Doublemeat Palace, thank goodness. Yes, that's right, she founded the tasty treat company Foodstirs, and held a miniature Buffy reunion to celebrate Foodstirs' Cupcake Kit Celebration:
OZ GUYS, BUFFY HUNG OUT WITH OZ!!!
That's Oz, alright! I guess he's cured his werewolf-like tendencies, and yet still looks like he's 25. Also in attendance were Seth Green's wife Clare Grant, Selma Blair (Cruel Intentions reunion as well!), and  Freddie Prinze Jr.! They all look like quite the close group of buddies, don't they?
Sarah also shared, much to her and our joy, that these weren't the only friends to come out and celebrate her new food venture:
According to the Foodstirs' website, which is pretty awesome, they're all about wholesome living:
At Foodstirs, our motto is to bake life sweet! Believing the heart (and stomach!) of every family can be found in the kitchen, we're founded on a mission to help create memorable, long-lasting experiences through baking. And because we're so passionate – scratch that! – totally obsessed with sourcing the very best products, you don't have to feel so guilty about indulging in your favorite treats. Our organic, non-GMO kits and mixes feature six or less simply delicious premium, real ingredients, free of artificial preservatives, dyes and flavors. Plus, they're not only designed by chefs , they're also taste-tested by adults and kids alike (including our own!) to ensure that we never trade quality for taste
Sarah has been working hard to promote the company:
She even visited cooking goddesses Rachael Ray and Martha Stewart!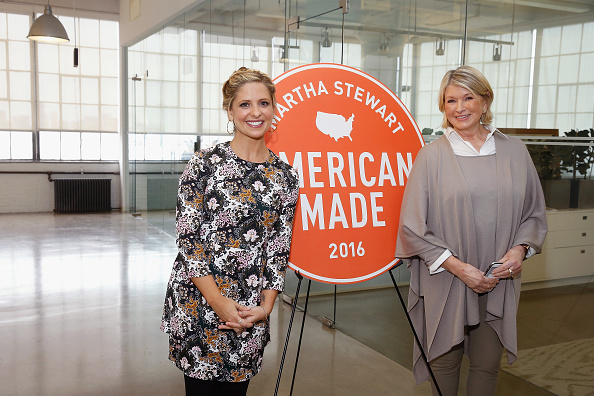 We wish you the best of luck, Sarah! Your food looks delicious, and being surrounded by friends (especially old Buffy pals,) you can't help but succeed.