Claire Underwood is sending us a secret message in this "House of Cards" teaser, and we have to figure it out
House of Cards has a knack for being cryptic, so it's unsurprising that the political drama is bringing the mystery once again in a Season 5 teaser featuring Claire Underwood (Robin Wright), First Lady and vice presidential nominee.
The teaser shows Claire — taking a cue from her husband, President Frank Underwood (Kevin Spacey) — breaking the fourth wall and speaking directly to the American people about safety, the media, and the impending election.
"I've been meaning to talk with you," she begins. "It's terrifying, isn't it? The President and I have a simple request: Tell us what you see. If anything in your environment strikes you as a bit odd, a bit off, pick up the phone. Whether it's a package or person that seems out of place, we'd love you to let us know, because there's a lot of noise out there these days."
She continues, "A noisy press that's choosing to dwell on the past instead of what's happening right now. My husband and I want to protect you. In two weeks' time, you will be heading to the ballot box to decide what kind of country you want to live in. It's a profound choice. But no matter who wins this election, we're going to need to work together, watch out for each other, and yes, watch each other. To keep us all safe and sound, tell us what you see."
She delivers it all with a cold, chilling quality — despite the fact that she's supposedly looking out for citizens — so watch the video below for added effect.
https://www.youtube.com/watch?v=-T0tdoabF_A?feature=oembed
Now, let's turn to the static images.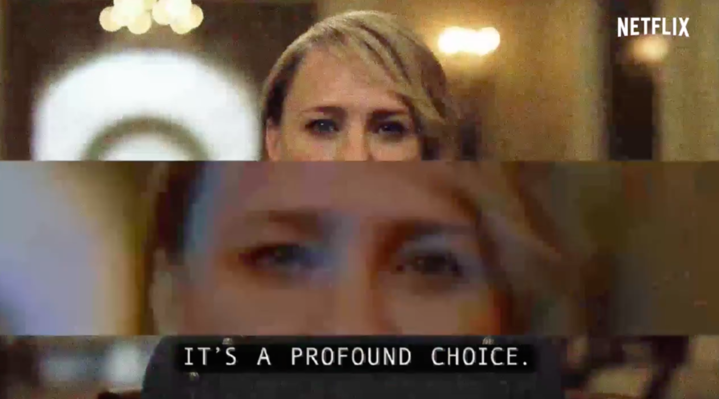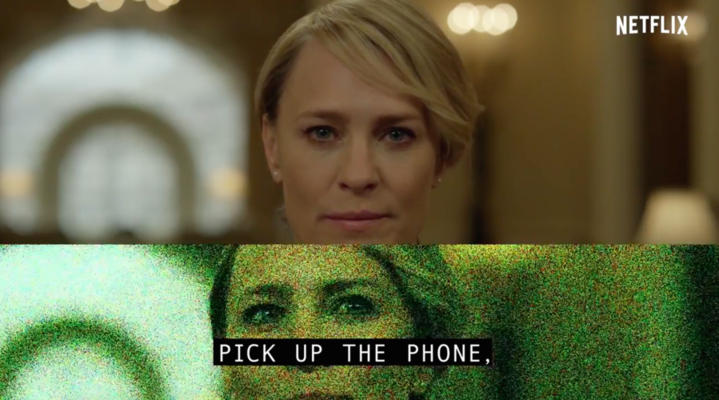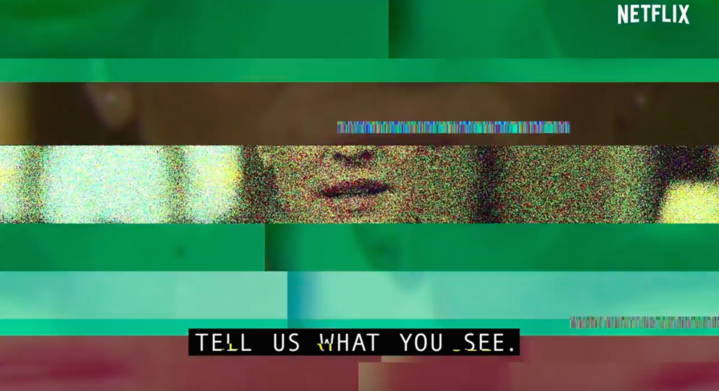 What's happening here? Is there some subliminal messaging going on? Is anyone else getting a Purge-like vibe? Do we need to enlist Gavin (Jimmi Simpson) to help us unpack it all? How about Cashew? (Because all we want is the return of Cashew. Is that so much to ask?!)
Also mysterious? The lead up to it all…
There's totally a secret message in all of this, but what exactly is it? What is Claire trying to protect Americans from? What are her intentions? Are things about to go even further in the dystopian, Orwellian direction?! House of Cards returns to Netflix on May 30th and we'll be counting down the days, because WE. NEED. ANSWERS.