Where are they now? All the most memorable guest stars on "The Big Bang Theory"
The Big Bang Theory is one of the most popular shows on television right now, and rightfully so! The wildly successful show is in their 10th season (!!!) and have had a slew of guests star in episodes throughout the last decade. Here's what some of the most memorable guest stars are up to now!
DJ Qualls
Back in 2007, actor DJ Qualls, who's famous for his roles in movies like The New Guy, Road Trip, and Hustle & Flow, starred in an episode of The Big Bang Theory as an actor who Sheldon hires to play his "drug-addict" cousin named Leo to get out of a lie. Since guest starring, DJ has continued to book roles in movies and TV show, and currently stars in Z Nation and The Man in the High Castle.
https://www.youtube.com/watch?v=i0SRzKTrPuY?feature=oembed
Eliza Dashku
In season 4, actress Eliza Dashku, who we all know from Bring It On and Buffy the Vampire Slayer, guest starred as FBI agent Angela Page. Currently, the 35-year old actress is still starring in movies and doing a lot of voice over work for shows like Hulk and the Agents of S.M.A.S.H and The Ultimate Spiderman. Eliza also went back to college, studying sociology at Suffolk University.
https://www.youtube.com/watch?v=o2Qn-hGNlaM?feature=oembed
Rick Fox
Rick Fox, the former NBA-basketball-star-turned-actor, appeared on the show back in 2011 as Bernadette's ex-boyfriend, Glenn. He said about the role, "It's all in Glenn's head now. 'How am I losing to this guy? He's [Howard] smarter than me. I love that they turned the 'threatening ex' on its ear. At the end of the day, I have more insecurity about my intellect and am constantly fighting to be accepted intellectually and be seen for more than my looks and my size. I want to appear intelligent and prove my intelligence. That's where I'm battling with him."
Fox is definitely still acting from time to time — he's appeared in shows like Mom, The McCarthy's, and Franklin & Bash. Fun fact: He and Eliza Dashku dated for like, 5 years!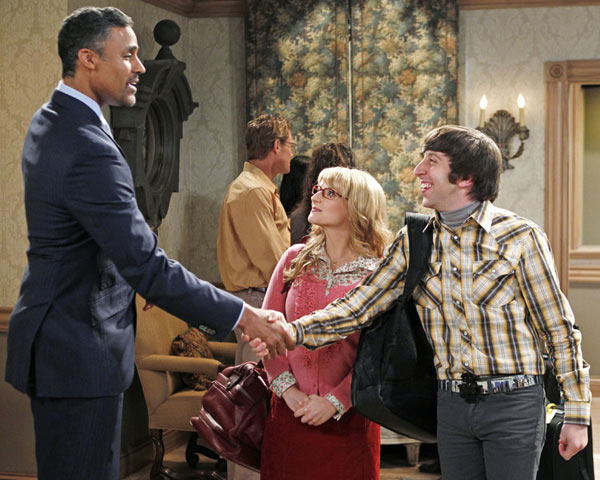 Eric Andre
Eric Andre, who's known for his outrageous talk show The Eric Andre Show, guest starred in 2011 as a movie theater employee in the episode where the gang just misses out on seeing the Indiana Jones movie in theaters.
The comedian is still hosting his talk show and also is a series regular in Man Seeing Woman, and has appeared on shows like Two Broke Girls and also made an appearance in Pop Star: Never Stop Never Stopping.
https://www.youtube.com/watch?v=ermeZ2hZT1c?feature=oembed
Judy Greer
The actress appeared in an episode of Big Bang back in 2010, where she played Dr. Elizabeth Plimpton.
The 41-year old actress is still in the acting game and has starred in the series Mad Love and Married. She also currently voices Cheryl on Archer.
https://www.youtube.com/watch?v=zKoUAV69XI4?feature=oembed
Blake Anderson
The funnyman guest starred this year in 2016 as a guy Sheldon wouldn't stop arguing with over him cutting to the front of the line.
While Blake is mostly known for his starring role on the Comedy Central show Workoholics, he's also pretty prominent voice actor! The father of one has lent his voice to movies like Teenage Mutant Ninja Turtles: Don vs. Raph and Ice Age: The Great Egg-Scapade, and has had roles in Neighbors 2 and Scouts Guide to the Zombie Apocalypse. https://www.youtube.com/watch?v=4KWjHxVIBi8