This F. Scott Fitzgerald novel is becoming a TV show, and Lily Collins is in!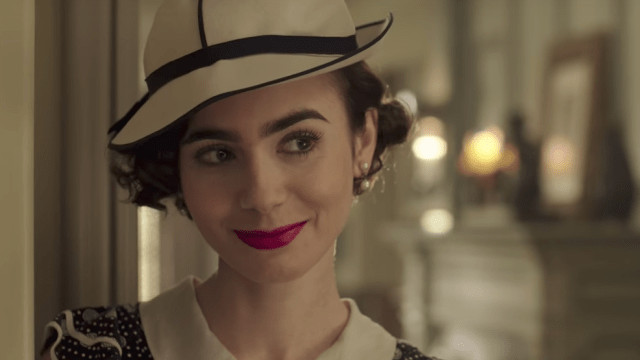 A new series is headed to Amazon and it revolves around our ideal entertainment trinity — Old Hollywood, bob haircuts, and F. Scott Fitzgerald. And as if that trinity couldn't get any more perfect, Lily Collins stars as one of Fitzgerald's beloved lead women.
The 9-episode show, entitled The Last Tycoon, is based on Fitzgerald's unfinished last novel of the same name. Matt Bomer stars as the main character, Monroe Stahr, who is modelled after the 1930s Hollywood bigwig, Irving Thalberg.
Collins plays Celia Brady, the daughter of Stahr's rival in the film industry (played by Kelsey Grammer), who is trying to make a name for herself separate from her father.
https://www.youtube.com/watch?v=KnRIv-QNtjg?feature=oembed
The pilot for The Last Tycoon went up on Amazon in July of 2016, in hopes of getting picked up for a full season. Thankfully, that happened, and now we get to see Fitzgerald's final masterpiece come to life.
In a 2016 Vanity Fair interview, Collins said that she relates to her character Celia in many ways. Her father, Phil Collins, is also in the industry like Celia's. But Collins explained,
"This character is trying to show that she's something separate from what you think she is. Yes, I'm the very proud daughter of someone who has done so much in their own right, but at the same time, I'm doing my own thing.
We think we might have a badass female character on our hands!
Fitzgerald never had the opportunity to finish writing The Last Tycoon before his death in 1940 at the age of 40. Even so, The New York Times hailed it as Fitzgerald's best work. So what better a cast to act out the pinnacle of Fitzgerald's career than Bomer, Collins, and Grammer?
We can't wait until The Last Tycoon is available for Amazon Video streaming on July 28th. Get the popcorn ready, people!