Demi Moore & Rumer Willis are both going to be on "Empire" this spring, and we can't wait to see them sing for Cookie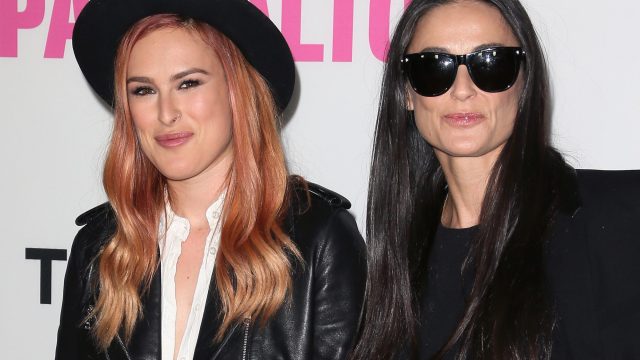 As if there wasn't already enough family drama on primetime, it looks like both Demi Moore and Rumer Willis are going to be on Empire for the last half of the third season. The mother-daughter duo will be joining the Lyons— or working against them; it's anyone's guess — in separate roles.
On Tuesday, E! News confirmed that Moore will be making an appearance in the season finale this year as a "take-charge nurse with a mysterious past" who is somehow already "treacherously entangled" with the Lyons. Moore's character will also return in the fourth season next fall. Talk about suspense.
Moore's daughter, Rumer Willis, will also make an appearance on the show this spring, playing a fictional pop star named Tory Ash who's involved with Jamal's (played byJessie Smollett)'s side of the business.
Rumer is no stranger to television these days, having played recurring roles on both 90210 and Hawaii Five-0 recently. But her mom hasn't been on the small screen in a long time. Moore's had some walk-on gigs on TV shows like General Hospital back in the '80s and a legendary cameo on Will & Grace, but she's best known, of course, for her films gigs with her roles in Ghost, G.I. Jane and A Few Good Men.
But if you're an iconic Hollywood actor, what better way to make a comeback than showing up as a nurse, who hopefully — please, please, please — has to face off with Taraji P. Henson's Cookie on Empire?
There's no word yet if Moore's nurse character will share scenes with her daughter, although any Hollywood junkie would be remiss to not want to geek out over what that would look like, especially since Rumer and Moore are pretty close. Although Moore is somewhat of a newcomer to TV, Rumer's role on Empire is totally in line with the show's recent tradition of having IRL musicians play actual musicians on the drama.
In this Empire season alone, Mariah Carey showed up for brief stint, along with rapper Birdman and French Montana. The show has also featured actors like Taye Diggs, Nia Long, and Phylicia Rashad onto its sound stages, so Moore will fit right into the show's ethos of mixing fiction with some real-life screen stars. Along with Moore, Eva Longoria is also reportedly going to make a guest appearance this season on Empire.
Once upon a time, stars looked to classic procedurals like Law & Order to make their small-screen comebacks. But Empire seems to be the place to be if you want to catch cameos from your favorite Hollywood stars. Now we just have to figure out why Moore's nurse character has a "treacherous" connection to the Lyon family for clues as to how all this drama plays out.