Hold up, get hype, the new "Game of Thrones" trailer might be teasing CLEGANEBOWL
In case you've been living off the grid in Essos for the last 24 hours, HBO released a new trailer for Game of Thrones Season 7, alongside a dozen new character posters and THIS. SEASON. LOOKS. EPIC.
Based on the new trailer, we're going to be reacquainted with old characters (Beric Dondarrion and a flaming sword!!), and there's going to be war and (potentially) a Stark sibling reunion. And there's one other big thing that has us freaking out. Drumroll, please…
CLEGANEBOWL! YEAHHHHHH!! WOOOHOOOO!!!
We've been waiting for this day for ~forever~ and it looks like it's finally here.
https://www.youtube.com/watch?v=1Mlhnt0jMlg?feature=oembed
Around the trailer's 1:22 mark, there's a man with long hair, whose face is difficult to make out, but he seems to resemble The Hound. He draws his sword, and it certainly looks like he's in an arena…and we all know who fights in arena battles — The Mountain.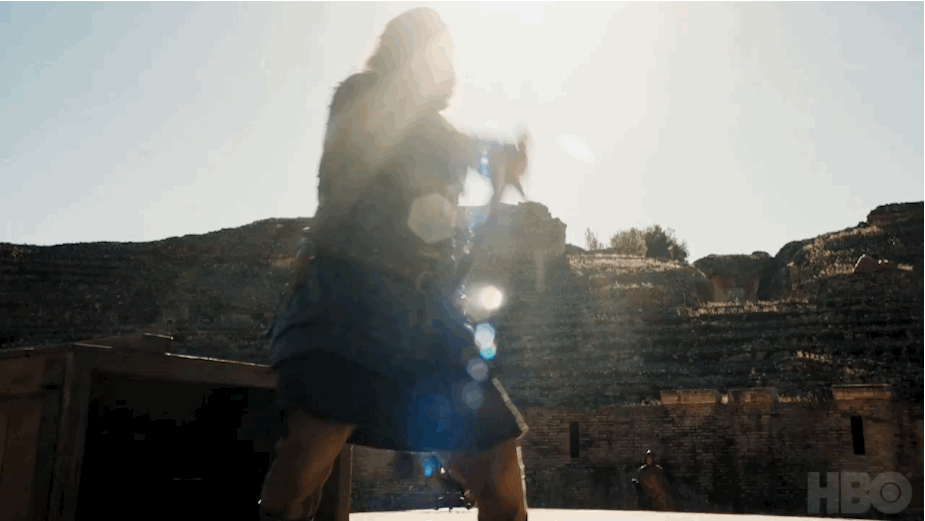 A quick recap: The Mountain, aka Gregor Clegane, and The Hound, aka Sandor Clegane, are brothers, and they do *not* get along. As children, little bro Sandor played with his big brother's toy, effectively pissing Gregor off. Exacting his revenge, Gregor held Sandor's head over a burning brazier, which left Sandor with a lot of facial scarring.
As the Cleganes are Lannister bannerman, the two find themselves in the employment of the Lannister family, and while both are brutal men who have killed, and will in all likelihood continue to kill, Sandor proves to be less of a total savage than his brother.
Since their last meeting, both have come close to death — with The Hound nearly dying after a duel with Brienne of Tarth over Arya and The Mountain being "killed" by poison during his battle with Oberyn Martell, before being reanimated by Qyburn.
And since it's been revealed that both Cleganes are alive — in one shape or form — it's been speculated that the two dueling brothers will meet again for one final battle. We're hoping it's this season, and the odds are looking good…
Only 24 more days until Game of Thrones returns!