Opinion: Mariah Carey's new album, Caution, is the redemption of Mimi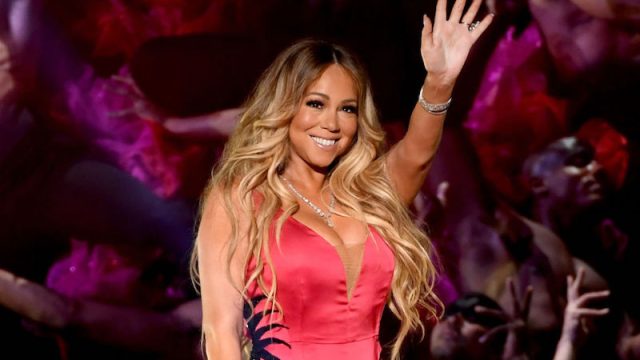 Here, author Michael Arceneaux reviews Mariah Carey's 15th studio album, Caution, and celebrates this redemptive era of Carey's legendary career.
For a moment there, I worried about the future of Our Lady of the High Note, Mariah Carey.
Nothing could ever totally erase the accomplishments of Carey—the woman with 18 number-one Hot 100 singles who is touted as the the biggest selling female artist in history—but her legacy looked to be in danger of being slightly soiled. Part of that was rooted in how Carey's career had been handled as though she was someone clinging to relevancy, rather than the living legend she is—one with absolutely nothing left to prove.
Case in point, the E! docuseries Mariah's World, which somehow managed to make one of the most idiosyncratic mainstream artists of a generation seem like a bore. There was also her disastrous appearance on Dick Clark's New Year's Rockin' Eve. For years now, the state of Carey's voice has been questioned, if not flat out ridiculed. I distinctly remember one piece in which a writer asked, "Remember when Mariah Carey could sing? Most millennials probably can't." The criticism, not helped by talk of sluggish tour sales, always felt harsh to me (and I wrote so accordingly at the time). But her critics had been given powerful ammunition.
She first attempted to redeem herself earlier this year with a new performance, but the elusive chanteuse's true redemption is her 15th studio album, Caution, and the promotional efforts behind it.
Months before Mariah announced her new album, she revealed that she had been diagnosed with bipolar disorder. Prior to that, it was reported that her manager, Stella Bulochnikov, the woman who was in charge of Carey's career during those aforementioned questionable choices, would no longer be working for her. Bulochnikov filed suit against Mariah, claiming sexual harassment and that the singer has substance abuse problems. I don't know what has come of that suit nor do I care. I'm just happy Bulochnikov is gone, and that better management in the form of Roc Nation has stepped in to steer my beloved Mimi's career in better, more appropriate directions.
Although none have matched 2005's The Emancipation of Mimi, another period of redemption for Mariah, her subsequent albums have revealed that she remains capable of crafting really strong songs. My preferred example would be the Mike WiLL Made-It produced "Faded" from her last studio album in 2014, Me. I Am Mariah… The Elusive Chanteuse. What I love about that song is that it highlights the fact that Mariah, ever the hip hop head, can make music that sounds current but not overly trendy. It highlighted that, two decades into her career, she can continue to adapt to the times without seeming desperate to sound young. If you're a Daria fan, think of the Val (as in Val) of music; it's a fate Mariah has escaped, thank goodness.
Caution, released November 16th, doesn't appear to be especially concerned with commercial success—although her label Epic Records (yes, this is her return to Sony Music) did release four teaser singles. Carey subtly questioned this practice in a recent interview, but one assumes the intent was to convey to longtime fans that Mariah is back at the top of her game.
I happen to enjoy all four of the singles. "GTFO" is hilarious and reminiscent of Mariah's quirky personality. It reminds me of a cousin of Memoirs of an Imperfect Angel, probably the project most reflective of the Mariah we have seen in so many infamous interviews. "The Distance," featuring Ty Dolla $ign, is a mellow and gorgeously produced duet. And "A No No," which samples Lil' Kim's "Crush On You," just sounds fun and extends Mariah's run as the best R&B singer to flip a hip hop track. Given her contempt for Nicki Minaj (we love the queen over here, though), I suggested that perhaps Mariah link with Cardi B and Lil' Kim (with the stipulation that she cannot be allowed to sing on the record) for a remix.
https://www.youtube.com/watch?v=bAuxl0l4IVI?feature=oembed
She sees the vision, too. If there's any way for Mariah to land any of her new songs on the radio (at least on non "urban adult contemporary" formats), a potential "A No No" remix might be her best bet.
As for the six remaining songs, I'm partial to the tracks in which Mariah is mainly mellow and sensual. Enter gems like "One Mo' Gen" and the album's title track. There is also the Timbaland-produced "8th Grade," which made me pine for not only more collaborations between the two, but the release of partially leaked works like "Skydiving." Caution also gave us the sublime and spectacular "Giving Me Life" featuring Slick Rick and Blood Orange.
Mariah revealed that it was Jay-Z who suggested she work with Dev Hynes. See? This the sort of advice you give Mariah, not a reality show.
There is no bad song on Caution. Its closing track, "Portrait," might be my least favorite of the 10-song set because it's chasing the ghost of "Vanishing," but it's a well-written song all the same. I adore this album, but I am quite impressed by Carey working with so many younger producers (Nineteen85 of DVSN, Skrillex, Blood Orange, Lido, The Stereotypes, and so on) and incorporating trap, electronic, old hip hop beats, and quietstorm R&B into a cohesive body of work that sounds like Mariah Carey.
Much of that has to do with Mariah being an incredible songwriter. I recently wondered why Mariah still harped on her songwriting chops, assuming that repetition equaled retention in much of the public. And then I heard a friend who describes herself as a Mariah fan question said claims of the artist being a songwriter, arranger, and producer.
https://www.youtube.com/watch?v=rdMQ31DlTjg?feature=oembed
I recently attended a conversation organized by Genius about Mariah Carey, starring Mariah herself. She graciously discussed lingering doubts about her talents, but I felt frustrated for her. With that in mind, may Mariah never stop reminding the masses that her pen game remains strong.
For acts looking for a template on how to continue making music worth listening to long after their commercial peak, Caution is a new template.
https://www.youtube.com/watch?v=0fxY_mu4OtE?feature=oembed
As for Mariah Carey's voice, specifically in live settings, she is not the Mariah of 1993—but she sounds damn good with the voice she has now. I knew Mariah could still entertain with her voice after seeing her at her Las Vegas residency, but hopefully recent performances will further assuage any lingering doubts about her capabilities. May the masses be convinced to attend her looming Caution tour.
Overall, though, I'm just elated to see Mariah looking healthy, sounding good, and releasing a really enjoyable new album that proves she's always worth considering artistically. More than anything, I'm thrilled she is being treated as a legend—not a caricature. She deserves this moment, dahling. She's earned it.
Michael Arceneaux is the New York Times bestselling author of the recently released book I Can't Date Jesus from Atria Books/Simon & Schuster. His work has appeared in the New York Times, Washington Post, Rolling Stone, Essence, The Guardian, Mic, and more. Follow him on Twitter.