Alicia Keys' newest music video is a gorgeous tribute to blended families like hers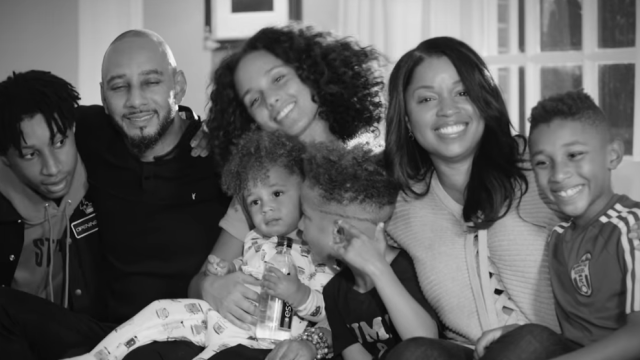 If you were lucky enough to hear Alicia Key's new song "Blended Family" when the single was released last month, then you're probably feeling pretty #blessed. The hauntingly beautiful tune celebrates blended families, like Alicia's own, and is among the most honest and raw celebrations of that complex family structure.
But there's more! Alicia released the video for the song today and it is, as you might imagine, a stunning, moving tribute to the evolution of her family and those like it.
In the "Blended Family (What You Do For Love)" video, we see Alicia and her husband, producer Swizz Beatz, alongside their two biological children, Egypt and Genesis, and Alicia's stepsons, Prince and Kasseem.
https://www.youtube.com/watch?v=HbGm5f5PR2o?feature=oembed
Also making a surprise in the video is Swizz's ex-wife and mother of Kasseem, Mashonda Tifrere. Swizz and Alicia infamously got together while Swizz was still married to Mashonda (though Alicia said at the time that she believed the couple had "separated" before she and Swizz got together).
A lot of public drama took place in the first years of Swizz and Alicia's relationship — Mashonda even wrote Alicia an open letter — but in "Blended Family," we see how much the family has evolved, changed, and come together.
Alicia sings, "And even though I married your father / That's not the only reason I'm here for ya … I know it started with a little drama / I hate that you had to read it in the paper / But everything's all right with me and your mama / Baby everybody here you know adores you."
https://www.instagram.com/p/BMrL0OFBJ6d
The song, which features the always-incredible A$AP Rocky, is an absolute must-listen — and exactly the kind of come-together anthem the world needs right now.