These 9 TV characters gave single moms the credit they deserve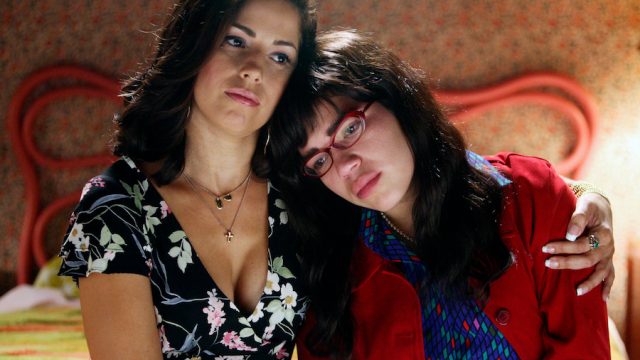 Being a mother is a hard job, especially if you're doing it without a partner. With this important truth in mind, we picked out our favorite single mothers from TV and movies — in honor of all of the ladies who run the show on their own. Thanks for being awesome.
1Lorelai Gilmore
Lorelai gets a lot of flack for her childish nature and questionable parenting tactics, but that doesn't mean she's not one of our faves. The Gilmore Girls matriarch does motherhood in her own unique way, just like every mom should. She raised a brilliant and talented daughter, and worked hard to do so. She rocks.
2Miranda Hobbes
We love Sex in the City's Miranda Hobbes. Although she doesn't remain a single mom, she raises her son Brady on her own for a few years, and tells her baby daddy she doesn't need his help. Power move. She's a career woman and a mom, and such a powerful character.
3Ashley Marin
Pretty Little Liars is definitely known for it's complicated family matters. Hanna Marin's mother, Ashley, is a divorcée who raises her daughter Hanna on her own. Though she engages in illicit activity before eventually buying and managing a hotel in town, she always does what's best for her daughter — even if the situation is tricky. And she always looks confident AF.
4Meredith Grey
After the tragic death of Derek Shepherd on Grey's Anatomy, Meredith raises her three children on her own while balancing her career as a surgeon. Meredith experiences ups and downs like any mom, but learns how to parent on her own as the show progresses. She has her own flaws like any parent, but at the end of the day is an amazing example to her kids.
5Carrie Martin
The Suite Life of Zack and Cody's Carrie Martin is a badass single mom to two twin boys who are always up to no good. She works as a hotel singer, and she and the boys live in the Tipton Hotel, where shenanigans often ensue. Though this was arguably a kids' show, Carrie always demonstrated how necessary a good sense of humor is when raising kids on your own.
6Hilda Suarez
Ugly Betty's Hilda Suarez is another of our favorite single moms. Though she eventually gets married, she raises her son Justin through high school by herself. Hilda owns her own business and always emphasizes the importance of family. We see a lot of worn-down single moms on TV, but Hilda is always energetic and looking flawless. She definitely doesn't forget to treat herself.
7Joyce Byers
Joyce Byers, whose son goes missing on the Netflix series Stranger Things is another badass single mom. She has raised two sons and works multiple jobs to support her family. It's clear that she is endlessly devoted to her kids after her missing son drives her into a crazed mania. She balances everything on her own, and raises two strong sons in the process.
8Norma Bates
Do you count as a single mom if you are sort of responsible for your husband's murder? Maybe not, but Bates Motel's Norma Bates is a super weird, but ultimately awesome, single mom. Though she deals with extraordinarily terrible circumstances, Norma raises her sons with strong values and kind hearts (sort of). She opens and runs her own business and manages to keep her kids out of trouble — and that's impressive when your son is an infamous, fictional serial killer.
9Angela Bower
Okay, Who's The Boss's Angela Bower might be the most kickass woman on this list. She's a New York City ad executive who is divorced and raising her son Jonathan as a single mom. She hires Tony, a live-in male nanny and housekeeper, to help around the house. While raising her son Jonathan, and acting as a mother figure to Tony's daughter, she demonstrates the way that life as a single mom can be hard, but also totally manageable.