The latest trailer for "Everything, Everything" is giving us intense first-love feels
Step aside, The Fault in our Stars, because Everything, Everything is the next tragic teen love story of our dreams. The upcoming film, which is based on a 2015 book of the same name by Nicola Yoon, is about Maddy, a teenager trapped in her own home due to a very serious illness.
Maddy's world is turned upside down by the arrival of young hottie, Olly. The film stars Amandla Stenberg and Nick Robinson as the star crossed lovers, with Homeland's Morgan Saylor, Anika Noni Rose, and Wayne Brady in major supporting roles.
The latest trailer, which features hit songs, promises that the film is going to feature stunning scenery and *definitely* require a box of tissues.
https://www.youtube.com/watch?v=mAC-nh9PU5s?feature=oembed
This new trailer highlights some of the tops songs on the soundtrack, like "How Did We" by Skylar Stecker and "Stay" by Zedd and Alessia Clara.
In the film, Maddy's mom has her locked away from the world due to her illness, but when Olly moves next door and is persistent in trying to get to know her from afar, Maddy's outlook on life changes, even if it means danger. The film (and the book it's based on) seems to have everything a YA romance needs: a first love, adventure, and charming, and slightly unrealistic events that we love anyway.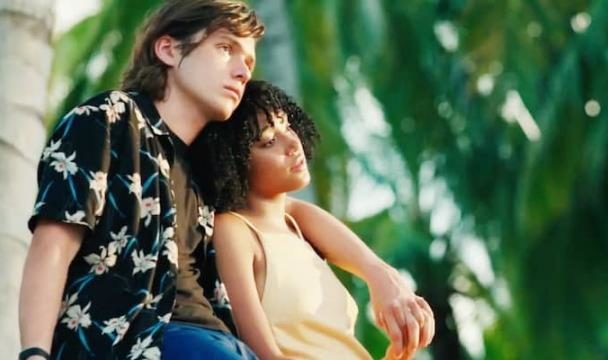 We've been fans of Stenberg's since she blew us away as Rue in the Hunger Games, and Robinson was fantastic in Jurassic World, so we definitely can't wait to see Everything, Everything when it hits theaters on May 19th.
Save