Melissa Joan Hart says Halloween time was the best on set for "Sabrina," and we wouldn't have it any other way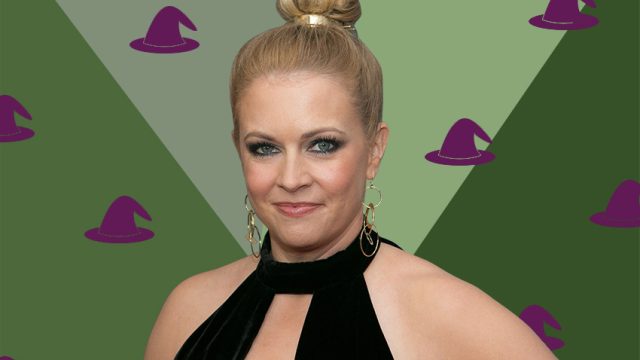 I didn't realize this was a dream of mine until it was unfolding in real-time. It's October, All Hallows Eve will soon be upon us, and I got to speak to Melissa Joan Hart (Sabrina!) for 15 minutes. As the teenage witch herself would say, "Woohoo!"
Thanks to the "Imagine If, With Jif" contest, I was able to speak to the actress, who is partnering with Jif Peanut Butter to help them choose their finalists. "I think what Jif is doing is really incredible, just giving kids and families the opportunity to be creative, think ahead, and try to make a difference in our future," Melissa told us. "I think that's what everyone hopes for their kids, is that they'll somehow grow up to be adults who will change the world, who will be better for the world." For more information (the contest ends October 20th and three finalists will be chosen!), you can look to the bold text at the bottom of the page.
In the meantime, let's talk magic…
HelloGiggles (HG): As an actress who has played so many independent, groundbreaking women — from Clarissa to Sabrina — what's it like to be such a pivotal feminist figure in many people's lives?
Melissa Joan Hart (MJH): Well, I know I've always been blessed with the roles that I've gotten…I know a lot of actors who play one iconic role for a long time [and they're] always being pigeonholed, and some of them start to get a little disgruntled about the fact that they're only recognized for one thing when they may have had a larger body of work — but I've been really blessed in that I've had a least two or three characters who have really resonated with people.
It's hard, in this industry, to keep reinventing yourself, and a lot of the time, if you have some kind of success, especially in television, people feel like they know you and they see you every day or you were part of their childhood. A lot of the time…it's hard for people to think of you as anything else or to recognize the rest of your body of work, and so I know that I've had a long career and I know that I'm proud of everything I've been a part of. Now, I'm getting to venture into more directing and whatnot as well, so I can't complain.
When people come up to you every day and say, "I grew up with you," which is the number one thing I hear, it's just so rewarding. It's such a lovely feeling.
HG: Speaking of directing, it's unfortunate that studies have shown that female directors are a rarity in Hollywood. As a woman who's in the field, what do you think can be done to fix this?
MJH: Well, I think that it is changing. I had a conversation yesterday, actually, on set…Even with the invention of the iPhone and the camera on the iPhone and people being interested in things like Snapchat, I think that that's going to lead people to Photoshop, that's going to lead people to film school, that's going to lead more women into the field — especially director of photography…I think the problem is behind the camera, really, as far as women knowing lighting and lenses and filters and that kind of thing. I really do think that maybe this next generation is being raised so tech-savvy that I think we're going to see more and more girls entering film school.
HG: With Halloween coming up, our readers would kill me if I didn't talk about Sabrina. I'm wondering, all these years later (and especially during this time of the year), what does Sabrina mean to you?
MJH: Oh, are you kidding? She's like…The roles you play are kind of like your children, so you look on them fondly, but you also know their flaws. You know their strengths and their weaknesses, but of course this is a great time of year. On the set, we used to always rejoice at Halloween time. It was our biggest holiday to celebrate as a witch family.
Also, all of our crew were just so into [it]…My hair and makeup team, my makeup artist, who now does American Horror Story and she does The View and she's so…She's covered in Emmys, and she's so into Halloween. It's so funny watching her posts because she's doing 31 days of Halloween, and each day, she's decorating a different part of her house. She throws the most epic Halloween parties. It's just so fun. That's how we were on-set. We found every moment to celebrate that we could, whether it was the 20th anniversary of Grease and we all dressed up as Grease characters…or we went and did an episode in Australia, or we did an episode in Florida. We found every moment we could to celebrate the friendship we had on that set and the fun we were having and the fact that we all got such a long shot at a job for seven years, which is so rare in this industry.
HG: What do you think of the Sabrina reboot that's coming out?
MJH: I don't really have many thoughts about it because I'm not a part of it. I heard it just like everyone else did on the news, and it was surprising. It sounds like a good twist, as opposed to trying to recreate the old one, which I think would be a much more difficult obstacle.
I think it's going to be different enough that people will flock to it.
HG: Would you want to be a part of it?
MJH: Well, there's a lot of what-ifs in that scenario, so you know. I don't like going backwards, but at the same time, if it's something really smart and fun, then yeah, I'm a part of it — but I never say never.
HG: Aside from Sabrina, do you have another favorite pop culture witch you admire?
MJH: Well, Bewitched was always a good one. Yeah, Samantha was…A lot of people call…They're like, "Oh, you were Samantha." I'm like, "Nope, the other one."
I loved movies like Teen Witch and Bedknobs and Broomsticks growing up.
And of course, The Chronicles of Narnia.
HG: We are so excited to see the Watcher in the Woods reboot that you directed. What made you want to take on this project?
MJH: I'm so excited about that.
It's so nice because people are so excited about it and even friends are coming out of the woodwork, [sending me e-mails] and texts just saying, "Oh my gosh, I just saw the trailer. It looks amazing. I'm so proud of you," and it's just such a nice feeling. It was one of my favorite movies and, 17 years later, my mom, who's my producing partner at Hartbreak Films, was finally able to get her hands on it. We tried since the Sabrina days to get our hands on the rights so I could play Jan.
But then, 17 years later, we got the rights, and I got the opportunity to direct it, with the amazing Anjelica Huston.
It was really an amazing time on-set, a really special time of my life, to be in Wales with this amazing cast and crew, and we just had such fun. If they tell us that the ratings do well and we get the chance to do a sequel, I'm there.
HG: Are there any other cult-classic films you'd love to direct or remake?
MJH: Oh, gosh, there's so many. There's so many, but there are just some that shouldn't be touched, like I would say Princess Bride should never be done. You can't…It's just too special. Grease, they did Grease 2, and of course they do it in theater productions all the time, but I don't think you could really ever redo Grease without Olivia Newton John and John Travolta.
I would say, I know it's been done, but maybe an Escape to Witch Mountain or I always wanted to remake…Nobody knows this movie, but I always wanted to remake Bachelor and the Bobby-Soxer, which was [Cary Grant] and Shirley Temple…But it's such a good movie, and it's just such an interesting…It's a little different from how our society is today, so you'd have to really reimagine it.
I think it's time to do some of the Shirley Temple movies again, like The Little Princess or some of the true, true classics.
HG: Do you feel like supernatural/thriller-type projects will always be part of your life? What attracts you to these projects? 
MJH: I think they're just a great genre in general. The public just loves escapism and I think that any time you bring in a supernatural character or give them some kind of powers that we just don't have here on Earth, they're always like, "Oh, if only I could snap and be in Hawaii," or "If only I could not sit in traffic," or "If only I could change my clothes or have great style just by the snap of a finger…" People love that. It's like Game of Thrones, Walking Dead, all those witch, vampire, everything. People just love those kinds of movies and it's been a form of entertainment for so long, and I think it's more recent that we've really embraced the horror genre.
Hitchcock had a big part in that, too…I studied a lot of Hitchcock when I was directing Watcher in the Woods. He was just the master of fright. He was just so good a scaring people. The Birds just seems like such a…That would be an iconic one to redo. You can't redo Hitchcock, but to redo The Birds would be so fun.
His movies were always just iconic and he changed the face of the industry. Between Stephen King's books and his movies, it became…I think people always liked this kind of stuff, stories like Dracula and whatnot that go back so far…Even beyond that, like Edgar Allen Poe…There's so much of it out there, but now it's just something that's okay to like.
I think, for a while there…only dark souls like that stuff, but now it's okay if everybody likes it. It's pure Halloween.
HG: In all your years working in Hollywood, what would you say is the most important thing you've learned? 
MJH: Keep your head up and just do you, because the hard thing is, in the industry, like I said before, you're always trying to reinvent yourself, and it's not the kind of industry where you get a promotion and you move into the corner office. It's the kind of industry where you might play an amazing role or a role you love that might be panned, or a role that the audience loves that maybe you didn't love so much. Or you do, and then it's on to the next thing. What's the next thing?
You might have one movie that does really well and three movies that bomb, and it's always [about] trying to reinvent yourself, but through it all, it's really perseverance. The people who I think that do well are the people who — especially a lot of actors out of New York as opposed to L.A. — tend to be the kind of actors who want to be working actors, not famous and rich.
The kind of people who are going to work for the craft and take the job and aren't just looking for the Oscar-winning roles and aren't just looking for the biggest paycheck. They're really looking for a great role to sink their teeth into. I think, in general, especially with young kids, it's very difficult because you have to just teach them it's a numbers game. You audition 100 times and you might get one audition, you might book one job. It's not easy, but it's just one of those things that if you just keep working at it, you can be successful.
Being successful in this industry is just working decade after decade after decade. It's not becoming a Brad Pitt/Angelina Jolie-type level. It's having longevity in the business and maintaining jobs and enjoying it in the process.
***
Melissa is so excited to partner with Jif Peanut Butter to support the "Imagine if, With Jif" contest. Jif Peanut Butter is all about nourishing kids' potential and they are doing that in a huge way through the "Imagine if, With Jif" contest — funding kids' potential to make the world a better place.  "Imagine If, With Jif" encourages kids, with the help of their parents, to submit their innovative and unique ideas, dreams and creations that could make the world a better place for a chance to have those dreams become a reality through donated funds. Now until October 20th, parents can submit their idea at jif.com/imagine-if for a chance to win up to $30K. Melissa will be judging the submissions and can't wait to see what families across the country are capable of dreaming up! Entering is easy! Go to jif.com/imagine-if and enter your names, contact information and a short description showcasing your kid's or family's entrepreneurial idea.
Melissa will be announcing the three finalists with Jif in New York City in November.
Don't forget to check out other fun news, recipes, and updates from Jif on Jif.com, Facebook, Twitter and Instagram.