Kate Winslet got Leonardo DiCaprio's advice for her new role, because friendship never ends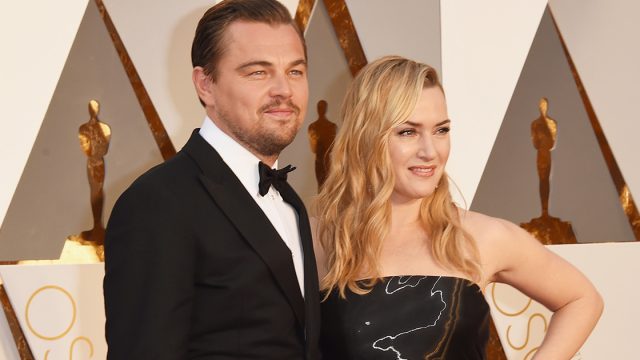 When we have something big coming up, we often call our BFFs for their help, and it seems that when you're a famous actor the same still applies. Before taking on her latest role, Kate Winslet has revealed she called Leonardo DiCaprio for advice, proving that their friendship does go on.
It might be some 20 years since they made Titanic together, but Kate and Leo are still close. Whether it's supporting each other at awards shows, gushing about their friendship, or both agreeing that the debate over "the door" should end now, we know that these two truly support one another.
That's why it doesn't come as a surprise that Winslet recently called on Leonardo DiCaprio for advice.
Chatting to E! News, the Oscar-winning actor spoke about how, when prepping for her role in The Mountain Between Us, which also stars Idris Elba, she decided to reach out to her old co-star.
In The Mountain Between Us, Kate and Idris play two strangers who are involved in a plane crash that leaves them stranded on the top of a snow covered mountain. While filming the movie, the British actor said that she had flashbacks to her time making Titanic, noting that her current role was actually harder than filming the romantic disaster movie.
Given that Leo won an Oscar for his turn in The Revenant, which was also set in colder climates, she thought he might be able to impart some wisdom.
"[Leonardo and I] did speak before [filming] and he did sort of say to me, 'Oh my god, you're crazy, it's going to be freezing cold. Do you honestly know what you're setting yourself up for?'" she said. "I would send him little photos of me saying, 'Thinking of you,' as I am lying in the freezing snow, covered in ice, and he would just send back slightly worried emojis."
But Kate said that she didn't feel her turn in The Mountain Between Us was as physically taxing as Leo's time filming The Revenant.
"How could I ever compare anything to what he did in The Revenant?…He did climb proper naked inside a horse carcass and I didn't do anything like that," she said. "So now I have to hand it to him, but then I would always hand it to him because he's my friend."
The outlet also took the chance to quiz Kate on whether there were plans for her and her former Titanic cast mate to team up again. Unfortunately, she said that there were no current plans, but that she would obviously love to.
"It might not happen until we're 70," she joked.
Tbh, we're crossing all our fingers and toes that we don't have to wait that long until we see these two together on screen again.