Hillary Clinton's reaction to the Cubs winning the World Series might be more awesome than the historic win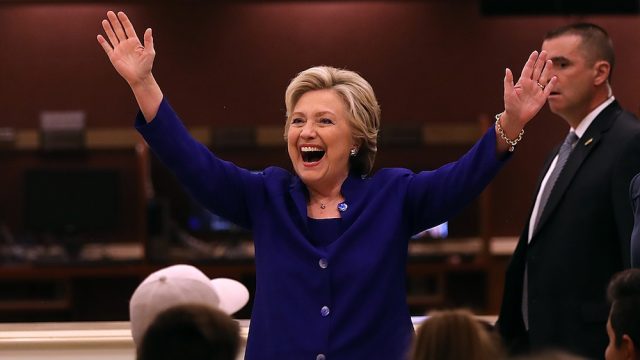 Last night, the Chicago Cubs made history by doing something that they hadn't done in 108 years. They won the World Series. It's been over a century since this much-loved baseball team has won, so obviously people were excited. And Democratic Presidential Nominee and Chicago native Hillary Clinton watching the Cubs win the World Series is magical. The potential future Madame President was so excited to see the Cubs win in an extra-long Game 7, as were tons of Cubs fans around the country. Seeing Hillary Clinton so excited about the World Series might be more fun than even the Cubs' historic win.
Hillary Clinton cheered on every good play the Cubs made.
LOL we love that her staffers are helping her watch by holding the iPad as Hillary continues along on her campaigning. Although we don't know how she kept going during that intense game.
When third baseman Chris Bryant finally got the final out, sealing the Cubs' victory, Hillary could not contain herself.
false
How sweet is that? How can Hillary's excited face NOT make you smile. It's just so endearing!
After the game, Hillary and her motorcade were rocking a giant "W" banner.
The "W" is the classic "Cubs Win" flag that is flown over Wrigley Field in Chicago whenever the Cubs win. And Hillary looks pretty psyched that she gets to hold it.
After the game, Hillary signed a fan's jersey.
false
And she "added that 2016 is the year that both will win."
We definitely hope that's true!
And of course, Hillary used the moment to give us all a sobering reminder about how far we've come.
false
It's taken 240 years to get to this place where we could possibly see a woman president. Women in this country have worked hard and come so far, and we're excited to think that Hillary might shatter that huge glass ceiling.
Election Night on November 8th is only 5 days away!
Make your voice heard by getting out to vote!