7 Renter-Friendly Ways to Revamp Your Apartment in 2023
Refresh your space in the new year with these clever tips.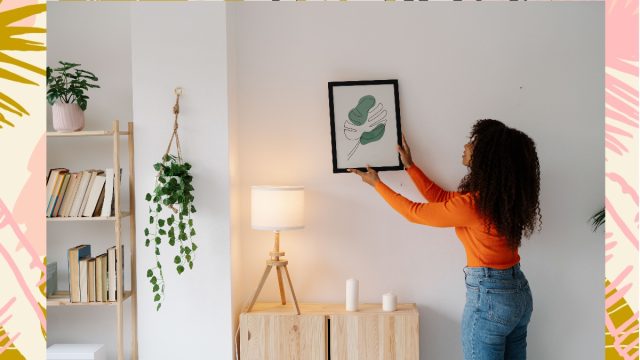 The product recommendations in this post are recommendations by the writer and/or expert(s) interviewed and do not contain affiliate links. Meaning: If you use these links to buy something, we will not earn a commission.
There's no escaping the fresh-start vibes of late December and early January. It's "new year, new me" time and for a lot of us, that extends to the place we call home.
For homeowners, the sky is the limit. They can strip floors, install cabinets, knock down and build walls, and the like. In other words, they can literally change the floor plan of their homes and don't need permission to do it.
If you're a renter, however, the range of possible updates is considerably smaller. Even if you have the space, more involved tasks like installing appliances and replacing old crown molding are usually off the table.
Even something as simple as using nails to hang photos on the wall can be forbidden, depending on your rental agreement.
RELATED: The 5 Best Ways to Organize Your Life in 2023
Still, this doesn't mean updating a rented space should be any less fun or interesting. I've spent the last couple of months doing a makeover of my one-bedroom apartment and managed to pull off a few major upgrades with little effort and a very modest budget.
The best part? I didn't need a professional home decorator or outside help, just a willingness to roll up my own sleeves, watch a lot of YouTube tutorials, and exercise patience.
If you're game to DIY and want to revamp your space before heading into 2023, here are a couple of quick ways to make a big difference. Before you know it, you'll be pining to host your friends or create before-and-after collages for Pinterest.
1. Preparation: Find your style
First thing's first, how do you want your apartment to look? If you can't answer this question or can't decide between a few different aesthetics, gather inspiration before you do anything.
Going into a home makeover without a goal in mind is possible but will make it difficult to know where the work ends. Revamping without goals is also more likely to lead to do-overs, and a lot of them. Do enough and you'll be ready to give up the entire project after a few tries.
Instead, use Pinterest to gather all of the things that encapsulate all that you want to feel or do whenever you're home. I've also made use of my phone camera by taking pictures of random things that inspire me and keeping them in a folder to reference.
Eventually, you'll start to see themes or patterns form, and can use these as a guide. For example, if your inspiration is comprised of mostly neutral tones and decor with clean lines, that could mean you're most attracted to a minimal aesthetic.
2. Do a deep clean
Another underrated way to read your space is by starting with a deep clean. I'm talking cleaning base boards, scrubbing walls, and bleaching grout. By starting with a literal clean slate, you can better see what you're starting with and consequently, make smarter decorating decisions.
Once you've gathered your inspiration, created a game plan, and completed a deep clean, there's just one more (optional) thing to do. Get clarity about the updates you're allowed to do.
If your relationship with the landlord is non-existent or limited to lease signings, review your lease and make note of any restrictions. If you have a friendlier relationship with your landlords, you may want to think about asking permission to do those more involved tasks that are on your wish list but not typically allowed in rental apartments.
3. Utilize removable wallpaper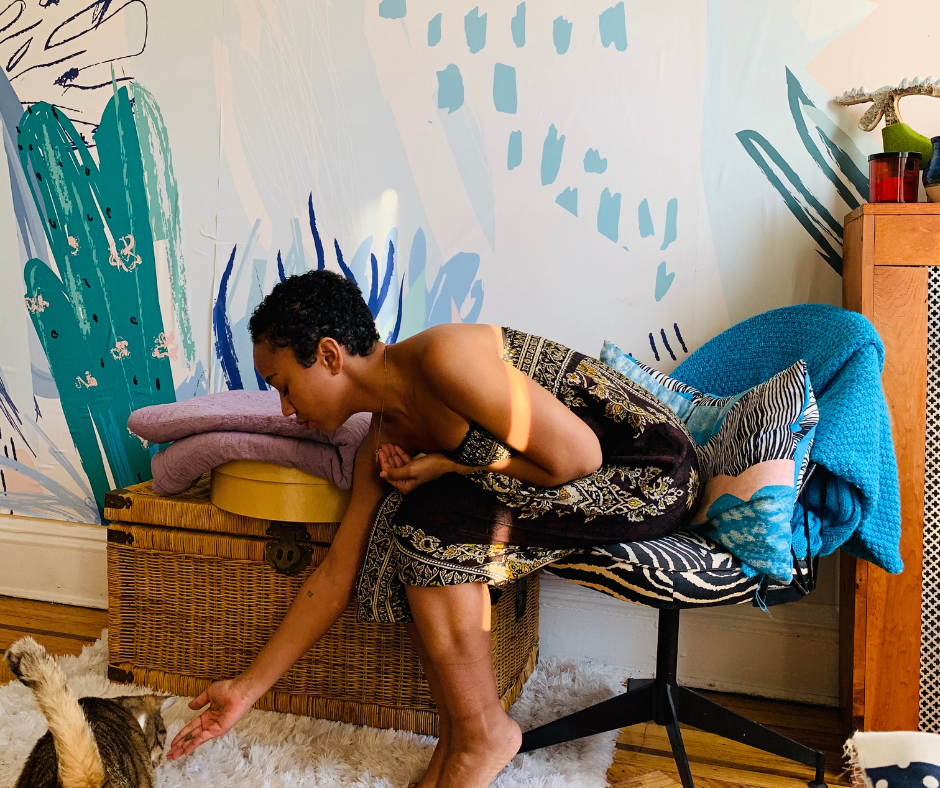 While pretty photo frames and lot of Command strips can take you far – and save your walls from damage – removable wallpaper is more impressive. Peel-and-sticks come in a variety of forms (wallpaper, decals) and depending on the size, can be installed on your own.
This unique pastel art mural from ColoRay Decor covers one wall of my living room and I was even able to order it in a custom size. This is the benefit of buying from websites dedicated exclusively to removable wallpaper or small businesses, though you can find it at larger retailers like Urban Outfitters too.
Contact paper is another removable option best suited for countertops and small furniture pieces. I decided to brighten up my kitchen by covering the dark green countertops with a light terrazzo contact paper. Use a ruler to cut the pieces beforehand and slowly roll onto the surface so you can smooth out any air bubbles along the way. This small update, along with switching out the cabinet knobs made the kitchen look bigger.
4. Give floors a refresh with peel n' stick vinyl floor tiles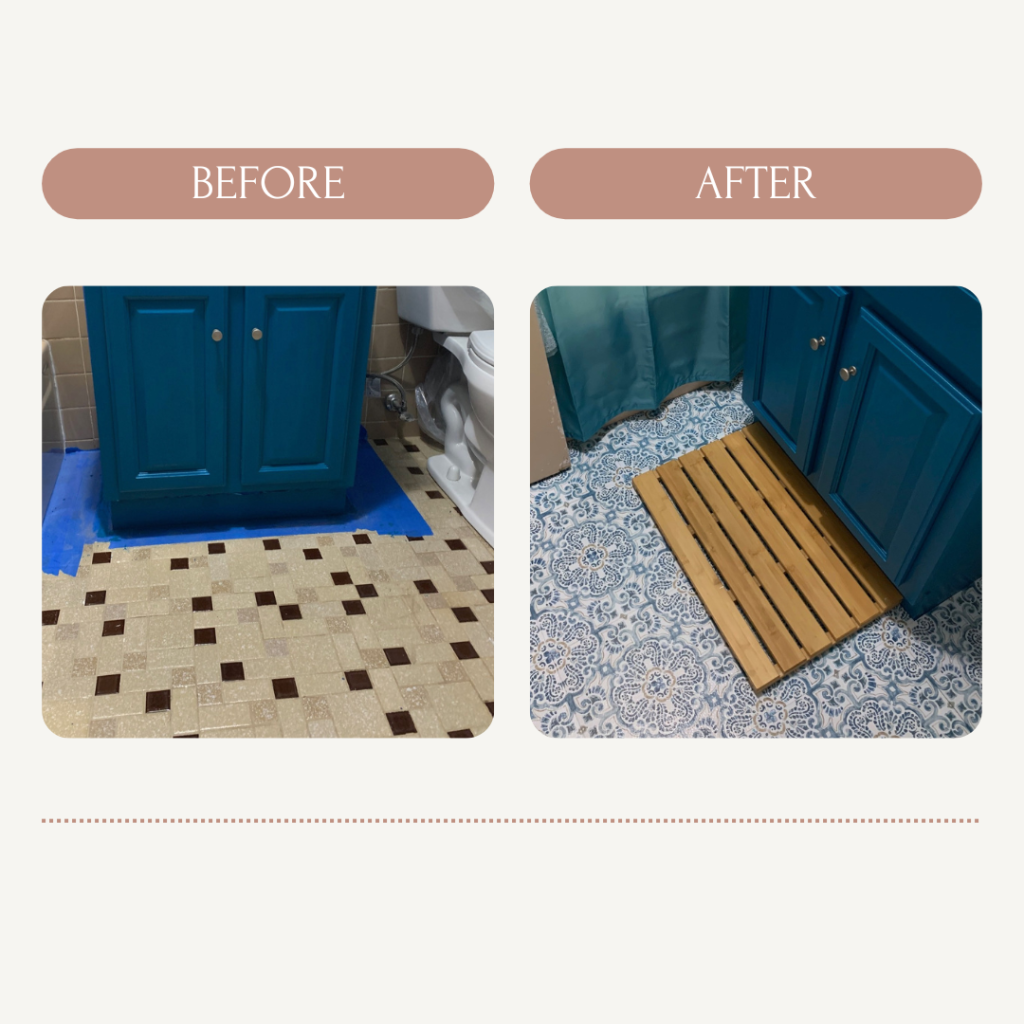 If, like me, your floors are tragically stuck in another decade, cover them up! I'm not just talking runners and area rugs. Vinyl floor tiles are as renter-friendly as removable wallpaper, as long as you cover the original floor with painter's tape before applying the pieces.
The barrier will not only prevent potential damage; the sticky side of the floor tiles will also adhere more firmly and can more easily be pulled up when and if you move out.
I found these tiles on Amazon with the goal of something bold and teal to match the overall maximalist aesthetic of my apartment. In the case of vinyl floor tiles, it's especially important to follow the directions.
Most will tell you to start application in the middle of the floor and work your way out, where you will likely have to cut pieces to fit those awkward corners and edges.
5. Upcycle furniture and decor
Oftentimes, revamping your space is as easy as repurposing what you already have at your disposal. For example, I updated the discolored zebra print on this swivel accent chair with new fabric that can be easily stapled on over existing fabric, and a fresh coat of matte black spray paint.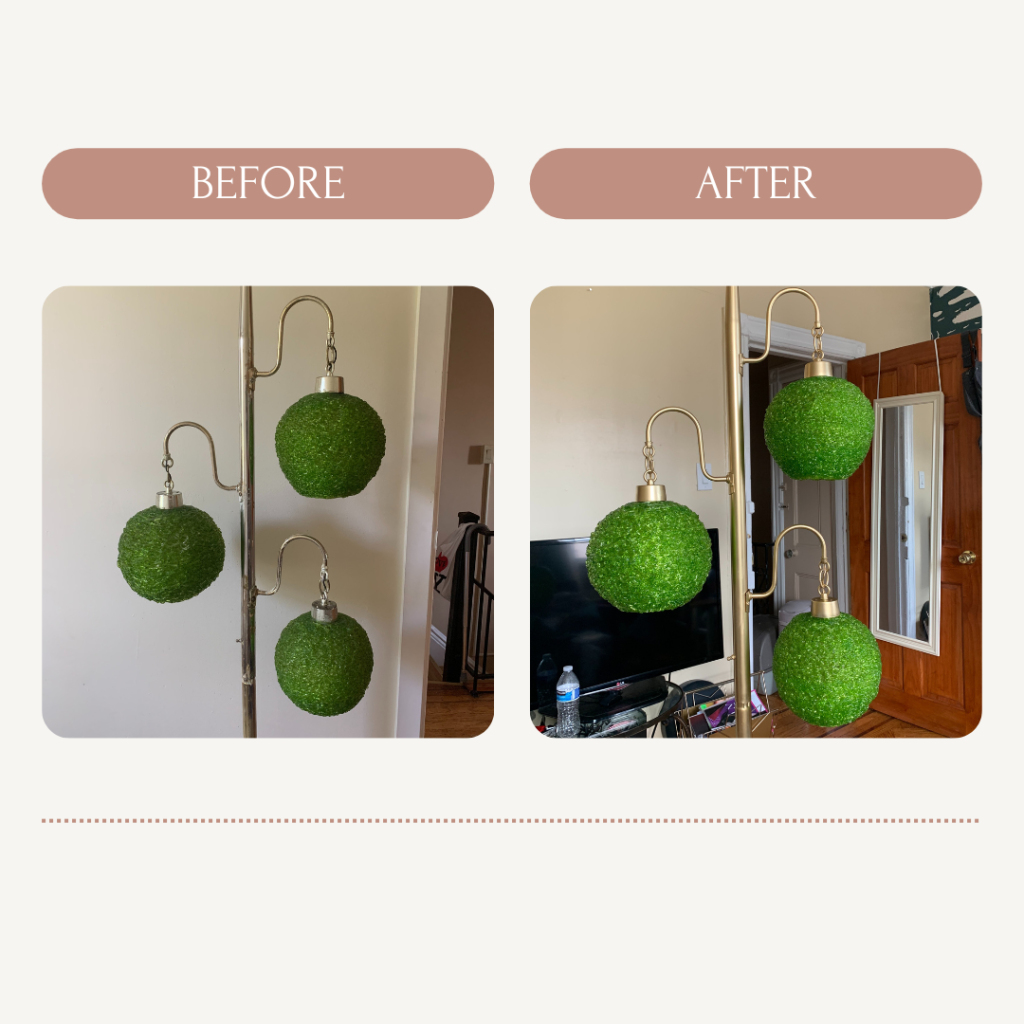 This vintage spaghetti lamp required a bit more TLC, as in lots of scrubbing and sanding to get the surface smooth, before laying down a metallic gold paint. The combination of both pieces required less than $20 worth of material and a typical work day (eight hours) to complete.
Once I made these updates, it became easier to select the appropriate linens, pillows, and bedding to match their vibe.
6. Turn trash into treasures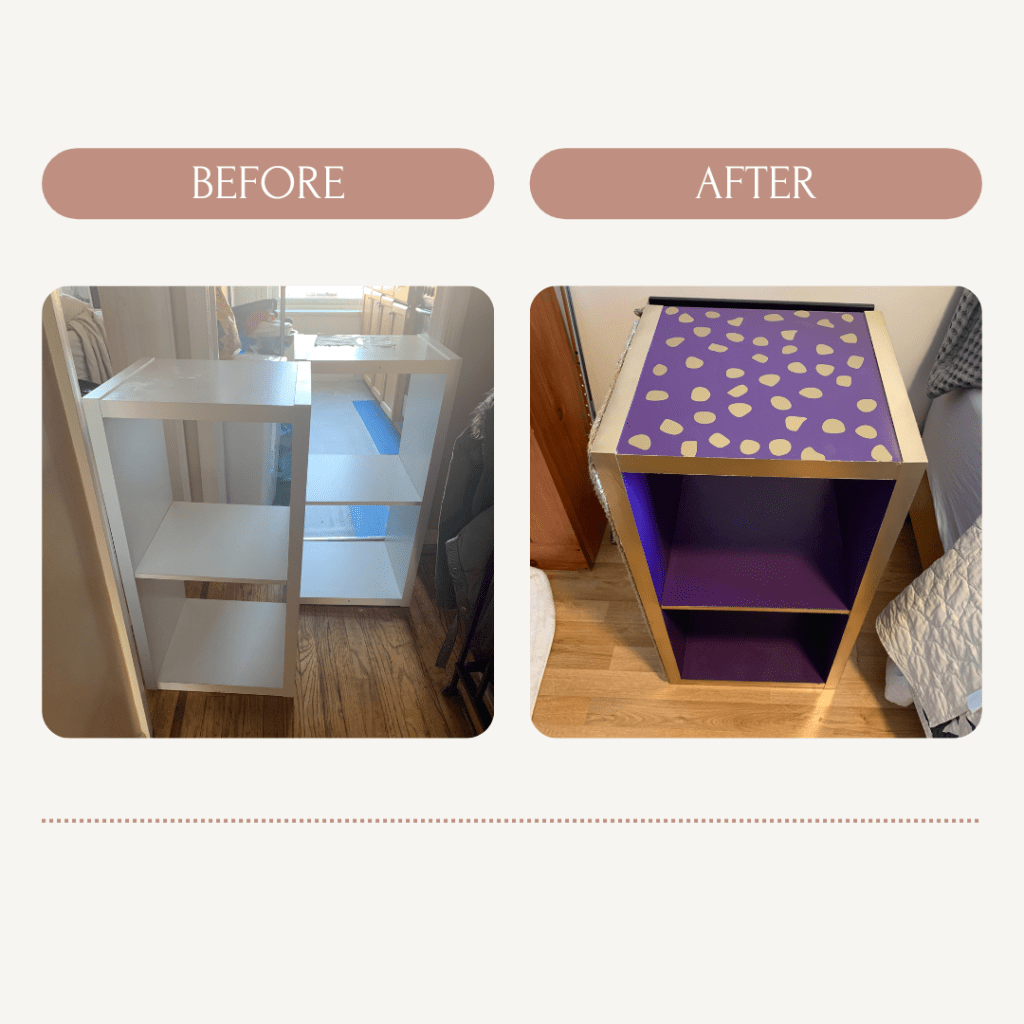 If you don't want to repurpose your current furniture, don't underestimate the impact of curb-side finds, whether it's a local flea market or the "junk" pile your neighbor put on the sidewalk for trash day. These matching Ikea shelves were left behind by a neighbor who moved away, so I quickly brought them inside, as a plain white canvas meant I could do practically anything.
In this case, I sanded them down for better paint adhesion, and used Behr's Prime & Paint combo to turn into my new nightstand. The borders are covered with the same gold spray paint I used for the spaghetti lamps, while the top is covered in these affordable polka dot decals and the side is a makeshift jute rope scratchpad for my cats.
7. Make cheap finds look luxe
Nikki Brown
The best home decor isn't limited to West Elm or the pricey destinations frequented by your favorite celebs. I've made the most of my modest budget and impressed many visitors with updated items from my local Family Dollar.
The line between chic and shriek is thin here but with something as simple as a spray paint job, you can turn a decor piece into something that looks more expensive than it is.
In the case of this abstract wire art hanging, painting it gold and pairing with two more added more elegance to my bedroom wall. Now's your turn to imagine even more ways to give your apartment the new year treatment it deserves!