Retro icon Traci Lords did the most amazing pinup clothing collaboration
Who could have known that when Traci Lords stole our hearts as Wanda Woodward in John Waters' iconic film, Cry-Baby, decades later she'd be gifting us with one of the cutest pinup lines we could possibly ask for?
In collaboration with Pinup Girl Clothing, Traci's "Couture for Everybody" line is the stuff of our retro-inspired dreams!
We're already swooning over that houndstooth pattern!
This inclusive line is absolutely adorable, with everything from a fitted retro T-shirt to the perfect hip-hugging capri!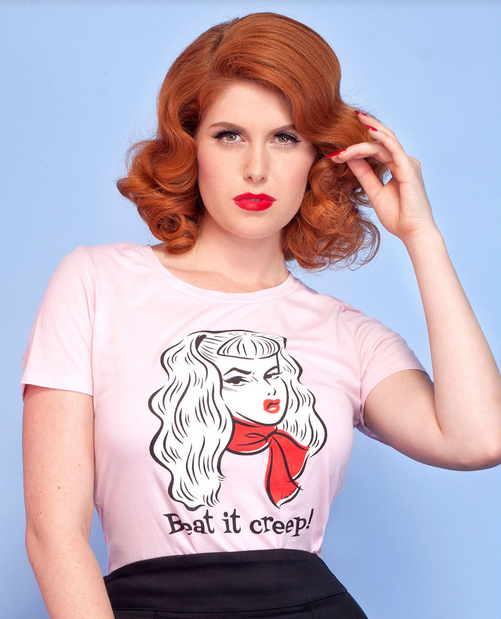 Iconic.
Don't you just want to roll up into the diner wearing this ensemble?
The perfect throwback outfit!
They even have options for men, which is such a treat!
How cute is that lipstick kiss top?
Traci even showed up to the launch party for the collection!
According to Pinup Girl Clothing's Instagram, the gold Traci Dress, which Traci is wearing, is coming this holiday and will also be available in red and black. The Wanda dress in Juvenile Delinquent Print that PUG founder and head designer Laura Byrnes is wearing will be available for purchase in the next couple of weeks.
This collection is a sweet tribute to a highly underrated and timeless film, and it makes us want to get cozy at the drive-in with our sweethearts!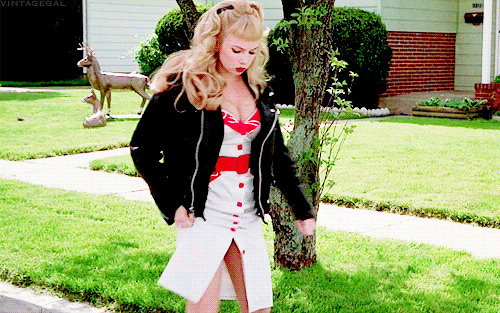 Part of the Traci Lords Couture for Everybody collection is available online now. In the meantime, we'll keep an eye out for those dresses!