Retro clothing designer Micheline Pitt collaborated with makeup artist Julie Hewett on a new cosmetics line and it couldn't be more perfect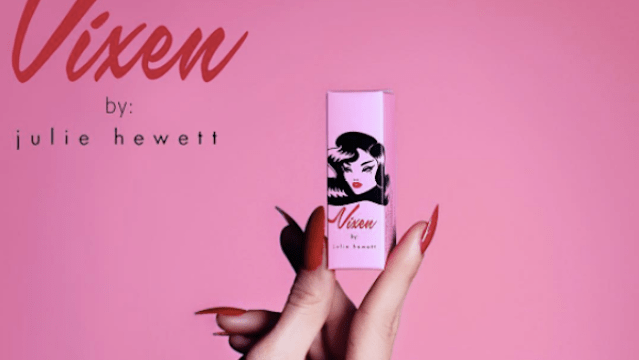 Vintage lover Micheline Pitt has teamed up with celebrity makeup artist Julie Hewett to release a retro-inspired makeup collaboration. Pitt is a clothing designer and model, and Hewett produces small-batch makeup products, so this is pretty much a match made in heaven. The line, which is called Vixen, will include lipstick, a matching lip liner, and an eyeliner to help you create the perfect pinup cat-eye.
Pitt has designed the packaging for the lipstick while Hewett created the actual product. The box is so cute! The clothing designer has been a big fan of Hewett's retro-style makeup line, so it must be a dream come true to work with someone who you admire and whose products you love!
In an Instagram photo of the packaging, Micheline states that the products are American-made excluding the lip liner, which is made in Germany. She also explains:
"The lipstick has 3 times the pigment of any traditional lipstick with the lasting power of a matte but with a soft creme finish. Gluten free, Paraffin free and cruelty free!"
In the past few weeks, Micheline has shared sneak peeks of her design process.
No word on a price yet for the Vixen lipstick, but we are guessing that it will be available on Julie Hewett's website and anywhere between $24 to $72, like her other lipsticks.
Micheline is also coming out with her own denim line, called Bad Girl Denim.
And there's of course her other gorgeous designs, which you can shop now!
So cute, right?
Pre-order for the line will be available soon. We can't wait to paint our faces with the new Vixen collab!