A restauranteur in L.A. is opening a PB&J-only shop, but there's a twist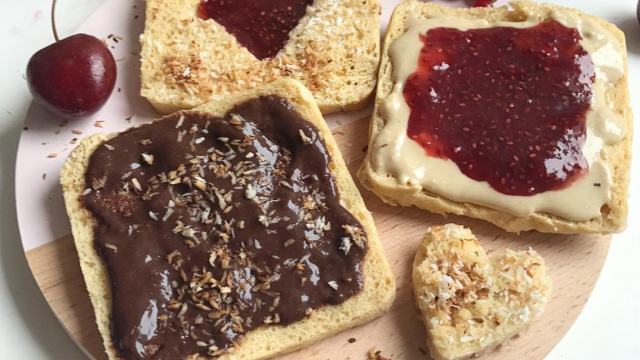 It was only a matter of time before gourmet PB&J hit the foodie scene, and it's no surprise that Adam Fleischman, the founder of Umami Burger, is the one to adult-ify our favorite childhood meal. Fleischman's newest food foray is called PBJ.LA, which is appropriate, as it's only offered in Los Angeles…for now. PBJ.LA is set to open up at Grand Central Market in Downtown L.A. in August, and it's already creating quite a stir for being compared to — wait for it — Smucker's Uncrustables!
Yes, everyone's favorite middle-school after-school snack is (arguably) being gussied up by Fleischman and his team for PBJ.LA, and honestly, that's kind of brilliant, because PB&J deserves an upgrade.
This is one of those things that makes everyone say: Why didn't I think of that?!
Eater has described PBJ.LA as "packaged rounds of sealed white bread (produced by an unnamed local baker) that contain peanut butter and jelly inside…They even have the pressed-in corners [of an Uncrustable]."
That is basically how one would explain a Smucker's Uncrustable to someone who has never had one. But! PBJ.LA's offerings will be different, because inside the non-Smucker's non-Uncrustables will be gourmet nut butters and jellies.
Fleischman told the L.A. Times, "Ours are organic and varied to the max. And fresh and artisanal, of course."
We don't even care that we didn't think of this brilliant idea, as long as someone is making it, we're happy!
If you're not sold yet, Eater has enumerated what these more sophisticated PB&J ingredients will include: "A variety of nut butter types and jellies, ranging from Angostura bitters and cashew butter to a rosé and stone fruit jam."
Sing it with us: It's peanut butter jelly time!
Hopefully, PBJ.LA will end up working out like Umami Burger and move on to multiple states, because this deserves to be enjoyed by everyone across the nation. Fleischman is no stranger to failure, though, as his Ramen Roll restaurant in Culver City, California only lasted four months.
https://www.instagram.com/p/BWc_A-rAXIM
But we have high hopes for PBJ.LA, since its 12-seat stall at Grand Central Market will likely be filled with nostalgic millennials who can't get enough of their favorite three-ingredient sandwich.