There is now a restaurant staffed almost entirely by robots and we're a little afraid of it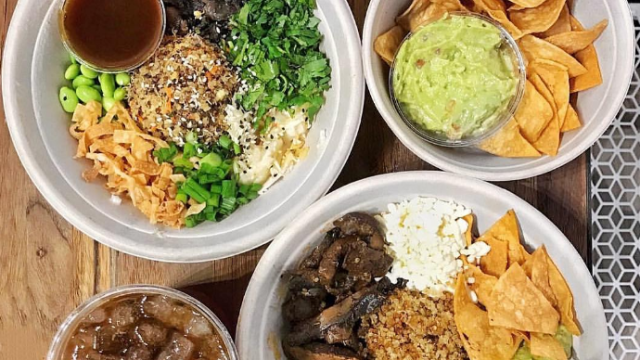 If you're the kind of person who likes to go out to eat and talk to people, like the waitstaff, you're in for a surprise when you go eat at this place. There is now a restaurant staffed almost entirely by robots, reported Mashable. Tbh, we're a little afraid of it.
And yes, you read that correctly — a robot-run restaurant.
Instead of customers interacting with a cashier, waiter, or waitress, they interact with an in-store kiosk. Or, if they prefer, they can use their computer or smartphone.
The new vegetarian restaurant chain is called Eatsa and debuted in New York on December 14th, although other existing locations include three in California — Berkeley, San Francisco, and Woodland Hills — as well as one in Washington, D.C.
Here's what the restaurant looks like.
Pretty, right? The kiosks remind us of airport check-in ones.
Here's a closer look.
When your food is ready, it magically appears in your very own enclosed glass cubby hole.
Yup, they're personalized, too!
And, let's be honest, the food does look good.
Eatsa's tagline is, "Better, faster food" and quinoa-based dishes are their specialty, like Spiced Apple Quinoa and Smokehouse Salad (pictured below).
"Fresh and nutritious food doesn't have to cost a fortune or take forever to prepare, Eatsa's website states. "Our commitment to you is simple: faster, nutritious, more affordable and tastier food.
But what's an extrovert to do if they like talking to people IRL at a restaurant?
Don't worry — all is not lost. Just because we don't order our food and drinks from a three-dimensional person doesn't mean we have to be mute while we're there. After all, we can talk to fellow customers.
Plus, if you think about it, if our order is wrong, there's no one to blame but ourselves — or a computer glitch, right? So that should actually reduce stress for everyone involved, customers and workers.
Mashable's Nicole Gallucci went to check out the New York location to see what's up.
"While one might assume a cashier-free environment would be completely devoid of human interaction, that was far from the case, Gallucci said. "Though I initially feared the establishment would have a lifeless art gallery-esque vibe, the music was pumping, the customers were chatting and upon walking into the sleek restaurant I was instantly greeted by a friendly Eatsa 'mascot.'
Btw, the "mascots" are Eatsa employees that are around if you have any questions. So, again, you are not completely alone in your Eatsa experience.
But are there robots in the kitchen, too? "The Eatsa bots are back there," said Scott Bruggman, an Eatsa corporate trainer who began as an R&D chef creating bowls, reported Mashable. "There's a lot of different things going on and we use as much technology as we can to better enhance the experience."
Hmmm, sounds very mysterious yet cool.
So what did Gallucci think overall? "The process was quick, simple and the food was fresh, as promised," she said.
Okay, we're in — and suddenly very, very hungry. Who's with us?