This rescued kangaroo has to hug her keepers every morning and sorry, our hearts just exploded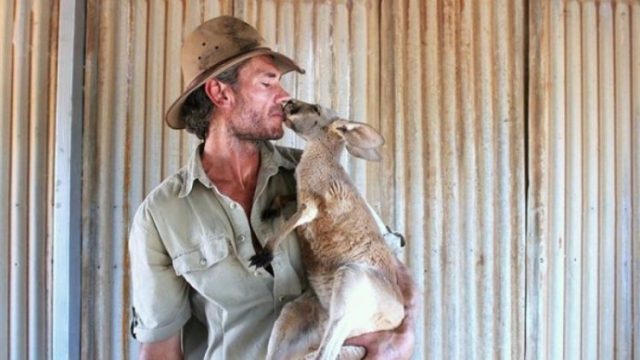 We think we just may have discovered the cutest thing ever. There's a rescued kangaroo named Abigail in Australia, and she's insistent on loving on her keepers every morning! We don't know about you, but we can't think of anything needed more than kangaroo hugs right now.
Known affectionately as 'Queen Abi' around the Australian sanctuary, the loving kangaroo was rescued as a baby by her caretakers ten years ago, and has lived at the sanctuary since. To show how grateful she is, Queen Abi starts her morning off by hugging everyone in site, because ADORBS!
The rescued bundle of love just makes our little hearts flutter. Queen Abi is so loveable, and we can hardly take it!
And here's a close-up of Queen Abi's sweet face, because she's beautiful near and far!
We'd turn into a puddle of mud if Queen Abi greeted us every morning like this, also, can this be a thing?
Seriously…is that NOT the cutest thing you've ever seen? And it makes us want to plan a trip to visit Queen Abi and the rest of the adorable kangaroo gang ASAP.
Good news for all you wildlife fans, in case you thought this story couldn't get better! The owner of the sanctuary Brolga is the star of Kangaroo Dundee, a docu-series in which he brings awareness to the work he does with rescued kangaroos. The show just completed its third season, and has been aired all over the world!