This rescue pup named Frida is working to help Mexico City earthquake survivors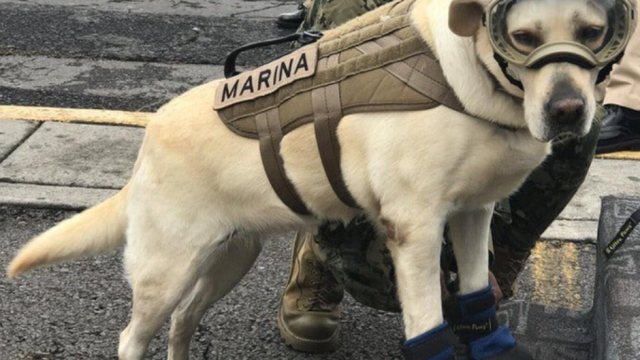 Okay, we know we've already said it a million times, but aren't dogs the best? They're there for us when we need emotional support, love, cuddles, laughs, and even memes. They come in all shapes and sizes, and they're always, or almost always, so good and pure.
While we have a special place in our hearts for all the pups, there's an especially soft place there for dogs that literally save us. That's why we're so thankful for rescue dogs like Frida, who are working to save Mexico City earthquake survivors. Frida, who's named after the painter Frida Kahlo, is trained to help find victims after natural disasters.
While the internet has been saying that, thus far, Frida has rescued 52 people after the earthquake in Mexico City, that's not quite true. The LA Times pointed out that Frida has helped find 52 bodies, with 12 of them alive, throughout her entire career as the star of the Mexican navy's Canine Unit. And even though there was a mix-up on how many people Frida has found, you best believe that she is still working hard to save as many people as she can.
After the earthquake hit, Frida was dispatched to a collapsed school, where she helped identify bodies amidst the rubble.
"Frida's handler, Israel Arauz Salinas, said she had suffered from exhaustion after searching the school Wednesday. But he said she was back in good spirits Thursday after drinking water with electrolytes and getting some rest. Salinas said that because of Frida's age, [rescue dogs] Evil and Echo, who are a year and a half old, usually go into collapsed buildings first. If they detect a person, Frida follows up to confirm. She usually spends no more than 20 minutes inside."
Salinas says that Frida, like the other dogs, will have to search spaces that are less than 20 inches high, and will sometimes have to actually crawl into the rubble. Frida and her colleagues are some of the heroes helping Mexico after this disaster, and we're so thankful for all of their hard work.