Everything "Reputation" reveals about Taylor Swift's relationship with Joe Alwyn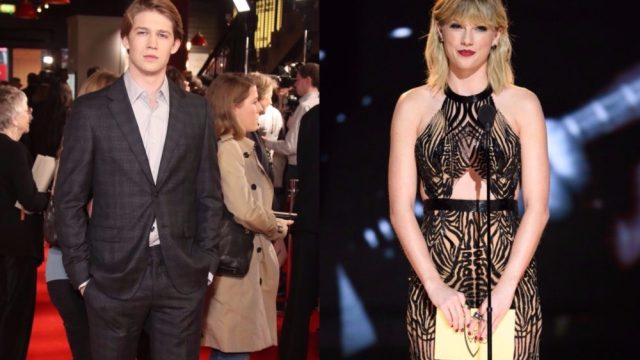 Each time Taylor Swift releases an album, we pore over the lyrics to extract details about her life, and yes, the men in it. On her latest album, Reputation, Swift mostly writes about love, and we think the man at the center of it is her boyfriend Joe Alwyn. From meeting at a bar to domestic bliss, here are all the nuggets of information Swift gives about her relationship on Reputation.
In "So It Goes," Swift describes meeting Alywn at a bar, which is shocking only because it's such a pedestrian way to meet. On "Dancing With Our Hands Tied," she seems to say she fell in love at first sight. On "Gorgeous," she references a whiskey bar, which leads us to believe that the gorgeous human she sings about is also Alwyn. Then, on "Don't Blame Me," she describes Alwyn as the most intoxicating drug, writing, "Don't blame me, your love made me crazy / If it doesn't, you ain't doin' it right / Lord, save me, my drug is my baby / I'll be usin' for the rest of my life."
She compares Alywn to the other guys she's dated, who may or may not have driven really expensive cars. "Cause all the boys and their expensive cars, with their Range Rovers and their Jaguars never took me quite where you do," she sings on "King Of My Heart."
But by "New Year's Day," their relationship sounds incredibly normal. As in, it sounds like a typical relationship: It's hard, but you make it work because you want to be with that person through thick and thin.
That song contains lyrics like, "But I stay when it's hard, or it's wrong or we're making mistakes / I want your midnights, but I'll be cleaning up bottles with you on New Year's Day."
On the same song, she commits to the relationship through its ups and downs: "I can tell that it's gonna be a long road /I'll be there if you're the toast of the town, babe / Or if you strike out and you're crawling home."
"End Game" is her concern that Alwyn won't be able to look past her ~reputation~ in the music industry, and on "Delicate," she basically confirms that he did. By "Call It What You Want," she sings about wearing his name on her necklace: "I want to wear his initials on a chain round my neck, not because he owns me, but 'cause he really knows me."
Lastly, she mentions the month of November, which has us wondering if that's when their relationship started, and if that's so, did they meet on November 10th last year? It would be VERY Swifty of her to dedicate an album to her new beau and release it on their anniversary.