Here's why therapists say you should still take your summer Fridays—even in quarantine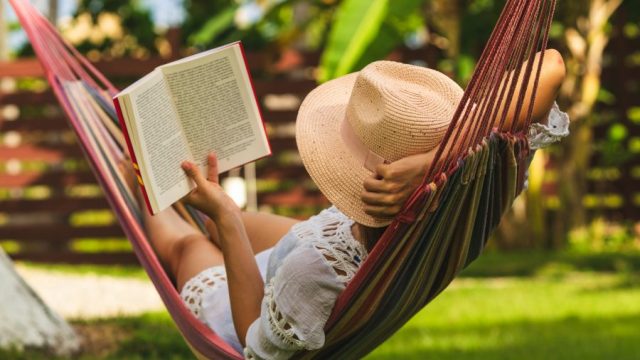 Before coronavirus (COVID-19) hit, summer Fridays were a time to go to the beach with your family, take a long weekend and travel, or meet up with friends for an early rooftop happy hour. But this summer, those days off may look a little different. Right now, the process of opening states across the country varies greatly. So while beaches and restaurants may be accessible in some places, it's totally okay if you're not ready to dive back into normalcy—even with businesses supposedly taking necessary precautions regarding the virus.
But we're also at the point where it's common to feel some sort of quarantine fatigue. We've already binge-watched all the shows and movies on Netflix and organized every closet and drawer in our homes, so it begs the question: How should we spend a summer Friday in quarantine?
According to mental health professionals, definitely do NOT skip out on taking your summer Fridays if you are entitled to them.
"Summer Fridays, like any health days, are so important for an individual struggling with or trying to better manage their mental health—even while working from home during quarantine," says Summer R. Thompson, DNP, PMHNP-BC, a psychiatric mental health nurse practitioner at Community Psychiatry.
Not to mention, research shows that taking time off results in greater success at work, lower stress levels, and greater happiness at home. But, for some reason, Americans have been taking less and less vacation over the last 15 years.
Brian Norton, LMHC, a psychotherapist and executive coach, says now is not the time to skimp on those days. "It may feel counterintuitive to take Friday (or another day off) in this time of uncertainty or when work is intense, but we actually end up being more productive as we think creatively and see the big picture of work and work challenges by doing so," he says. Otherwise, we risk being so caught up in our work that we stop seeing things clearly, something that is particularly important with everything going on in the news right now.
"The weight and stress of COVID-19 and images of injustice, violence, and political chaos take a bigger toll than most of us to realize," points out Norton. "For many, these images and news stories serve as trauma reminders of previous times of uncertainty, helplessness, health scares, feeling subjugated, and more." He says that using the time off we are allotted—to assess our own psychological and emotional wellbeing and have an open dialogue with our loved ones about what we need—is essential.
This year especially, taking a summer Friday is more than using it as an excuse to escape to the beach for the day; it's about using it to your advantage to give your mind some rest. Whether you have the whole day to kill or just half, use the time to get out of your normal routine and do something different.
Here are some ideas of what to do on a summer Friday:
1Unplug.
It can be tempting when you're inside all day to want to check your work email, but this can actually start your day off on the wrong foot. If you can, Sanam Hafeez, M.D., an N.Y.C.-based neuropsychologist, says to aim to stay off your phone for the first hour of the day. "Blocking out that time to focus on meditating or the day ahead will help you feel more balanced," she says.
Also, leave everything work-related at work. And even if you're working from home, remember that you earned this time just for yourself (or with your kids, if you have them). The work will always be there, so you can come back to it on Monday with fresh eyes and more energy to tackle it head-on.
2Get outside.
Dr. Hafeez says one of the best things you can do for your mental health and overall productivity is to spend a good chunk of time outdoors if you can on your day off. "Studies have demonstrated that being outside can lower your cortisol levels, the body's primary stress hormone. Some studies have even found that opening your windows and allowing natural light to enter a room relieves stress," she says.
3Excercise.
Many of us who have been working from home for the last few months have had our existencerelegated to our living rooms or bedrooms, often staying in the same seated position for hours on end due to our makeshift work stations. Getting your body moving on your day off is a great way to release endorphins and give yourself a natural energy boost—whether that means making time to do an at-home workout or choosing to go outside for a bike ride or hike.
4Do something creative.
Journal, paint, try a new recipe, or partake in a hobby you like. Doing something different each week will help differentiate your summer Fridays, even if you choose to spend it at home. Plus, as Norton notes, "Consistent time spent satisfying the parts of a person that are not fulfilled in their work is essential." Allow yourself your time off to do something that makes you happy.
5Educate yourself on what's been going on.
The needless deaths of George Floyd and Breonna Taylor (among many others) have sparked a worldwide movement aimed toward eradicating racial injustice. This is a pivotal time in our history, and it can be overwhelming to try and take everything on while also trying to do our jobs. "If you don't want to be a passive witness to injustice, identify where and how you want to spend your energy during this time," advises Norton. This can mean educating yourself by reading a book by a Black author, donating to groups that are doing the work right now, or taking some time to follow Black beauty influencers and diversify your feed. "Without these steps, our anger and sadness will play out in the workplace, and we will potentially look back in this moment with regret that we didn't do everything we could to take care of ourselves and facilitate change," says Norton. "We may even end up sabotaging our work if we don't prioritize our needs first," he says.