Rent the Runway just opened their first ever flagship location and it looks like a fashionista's dream
Ever since they came into existence, Rent the Runway has completely revolutionized the way we shop and get our clothes! Their designer rental system is every cash-poor clothes lover's dream! And now, RTR is stepping up their game by opening up their first ever store. Yes, this is happening! As you can imagine, the store looks absolutely gorgeous. Not only do they have the power of the already flawless app at their fingertips, but you can try on your potential rentals and weed out any clothes that you may not like before they end up in your home. How fantastic is that?
It takes everything we love about the app — being able to wear designer clothes at a fraction of the cost — and makes it even easier by letting us try it on before we pay to have them sent our way.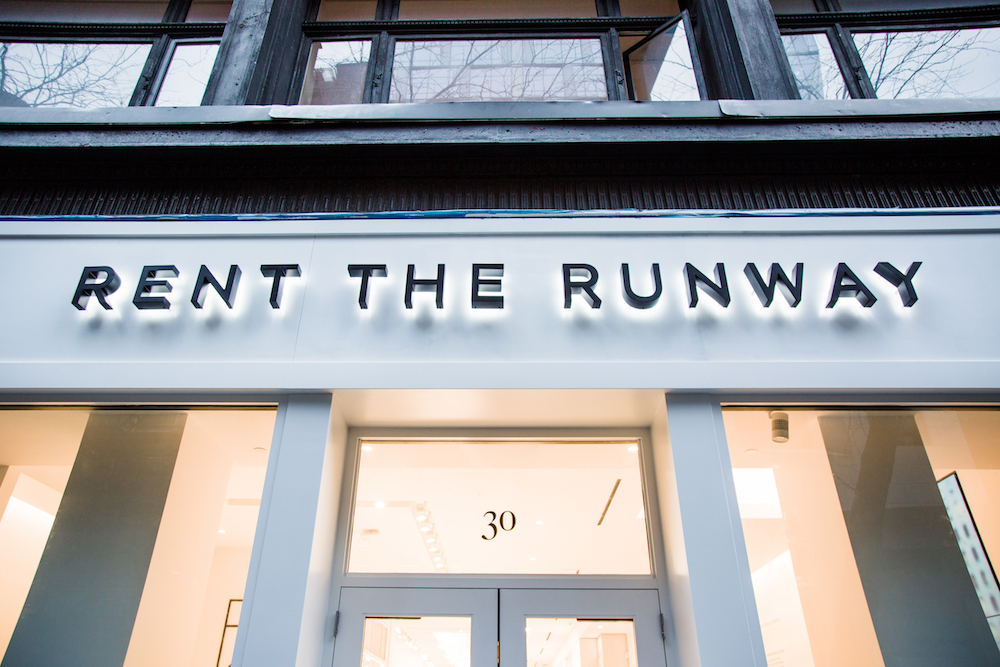 The store opens Tuesday, December 6th in New York's Flatiron neighborhood, and it's 3 times larger than their last NYC location. Unlike a more typical shopping experience, the store optimizes its tech and design features to guide each client's visit based on their individual needs and past interactions with RTR.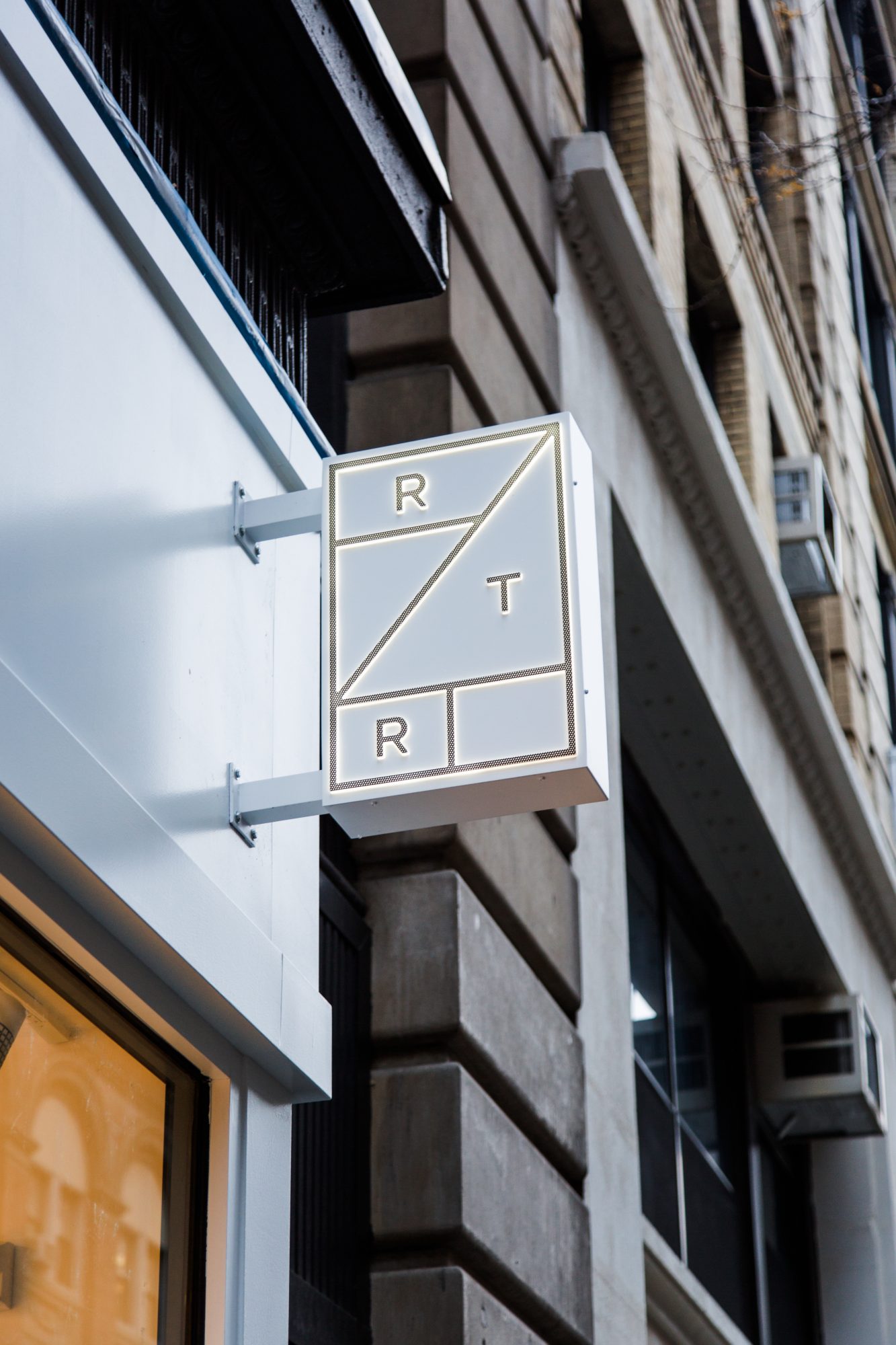 There are no mannequins or clothing racks set up around the store. It looks more like a gigantic walk-in closet than a shop!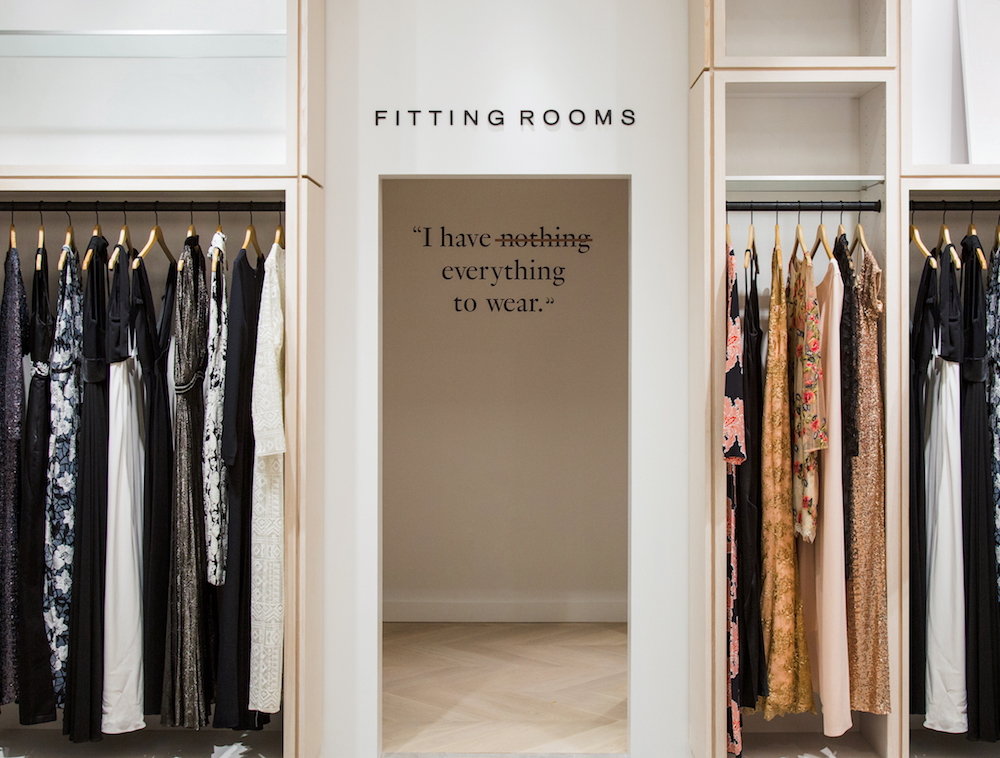 There are check-in stations near the entrance that help guide shoppers when they arrive at the store. The integrated smart technology gets their log-in information from the customer, so it's a completely seamless in-store experience.
Whoever is assisting you can see how you've used the app in the past, what clothes you have saved in your favorites, what you've rented, and what events you have coming up. Walk-ins can sign up for a fitting room at check-in and get a head start on their shopping! They'll receive a text once their fitting room is ready for them!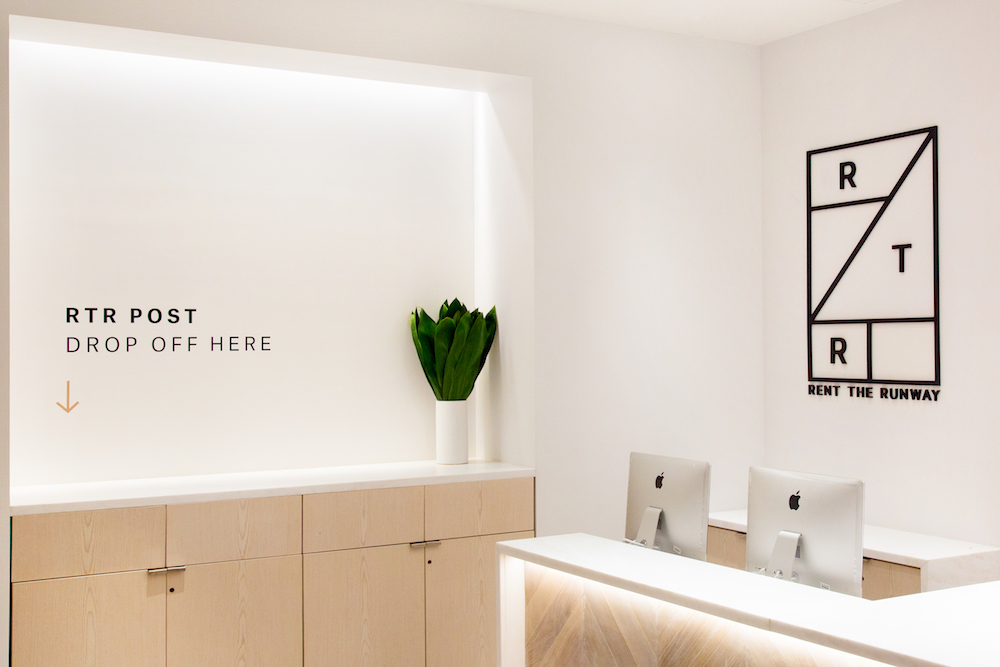 We are in the future!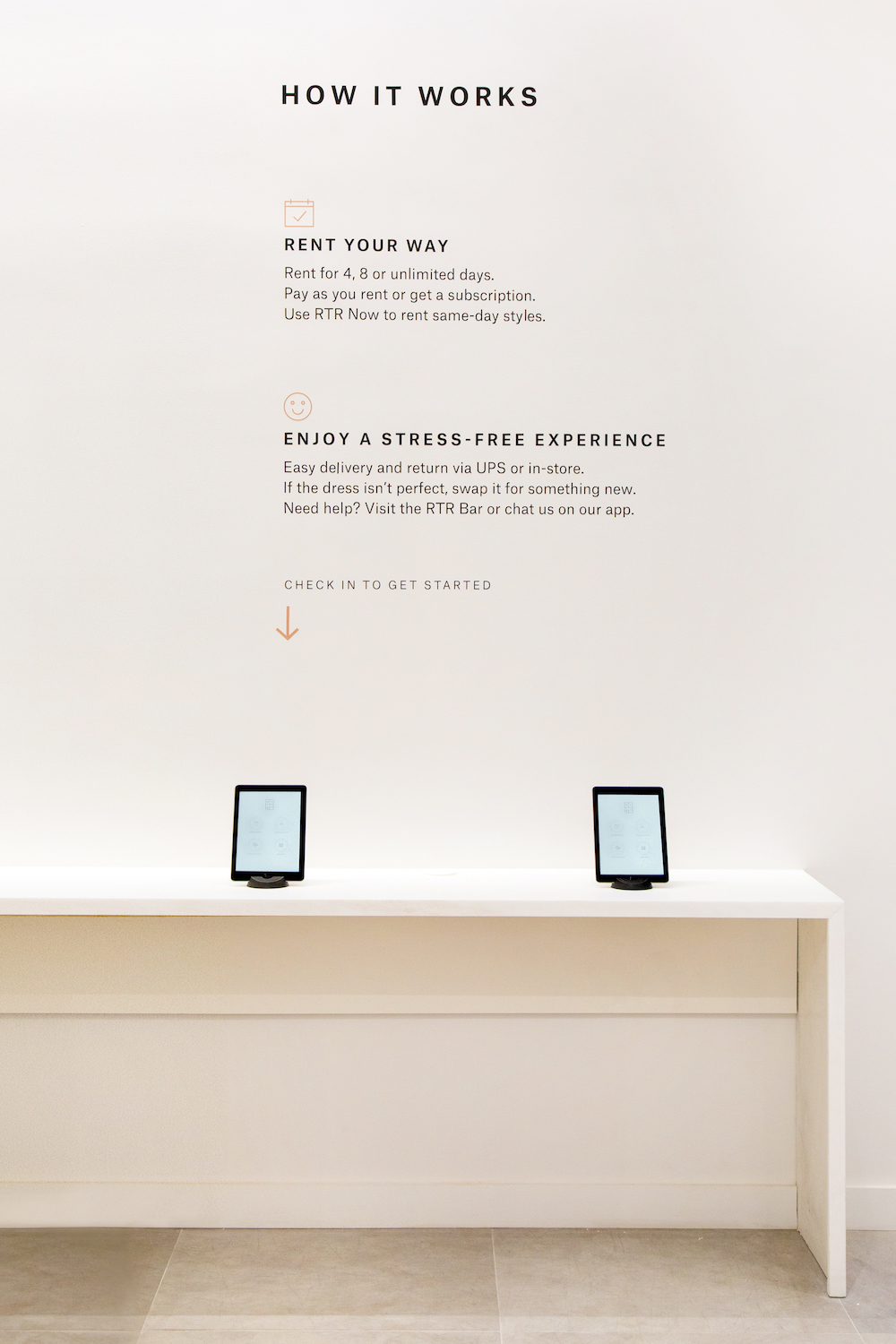 Your customer profiles will make for the ultimate personalized shopping experience. A store associate can tailor any customer service needs or dress selections based on the client's existing order and previous experiences with the app!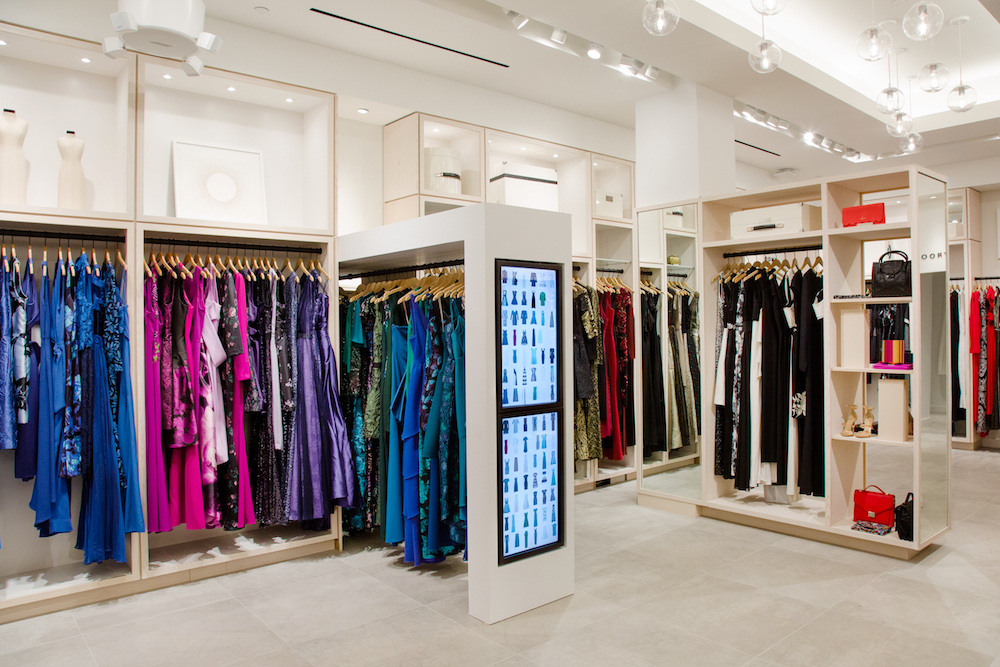 Since clothing is rented out every day, the inventory will be rotated daily! You'll be able to check the app and see what is in-store on any given day, which is insanely helpful when picking a last minute look.
Once you're actually in the store, you'll be able to sip on a cocktail, pick up an order, get personal assistance, or browse the inventory at the RTR Bar. The store has been designed to be comfortable and convenient for all your needs. There's even a drop-off slot at the front of the store, which makes it super easy to return items when you're finished with them.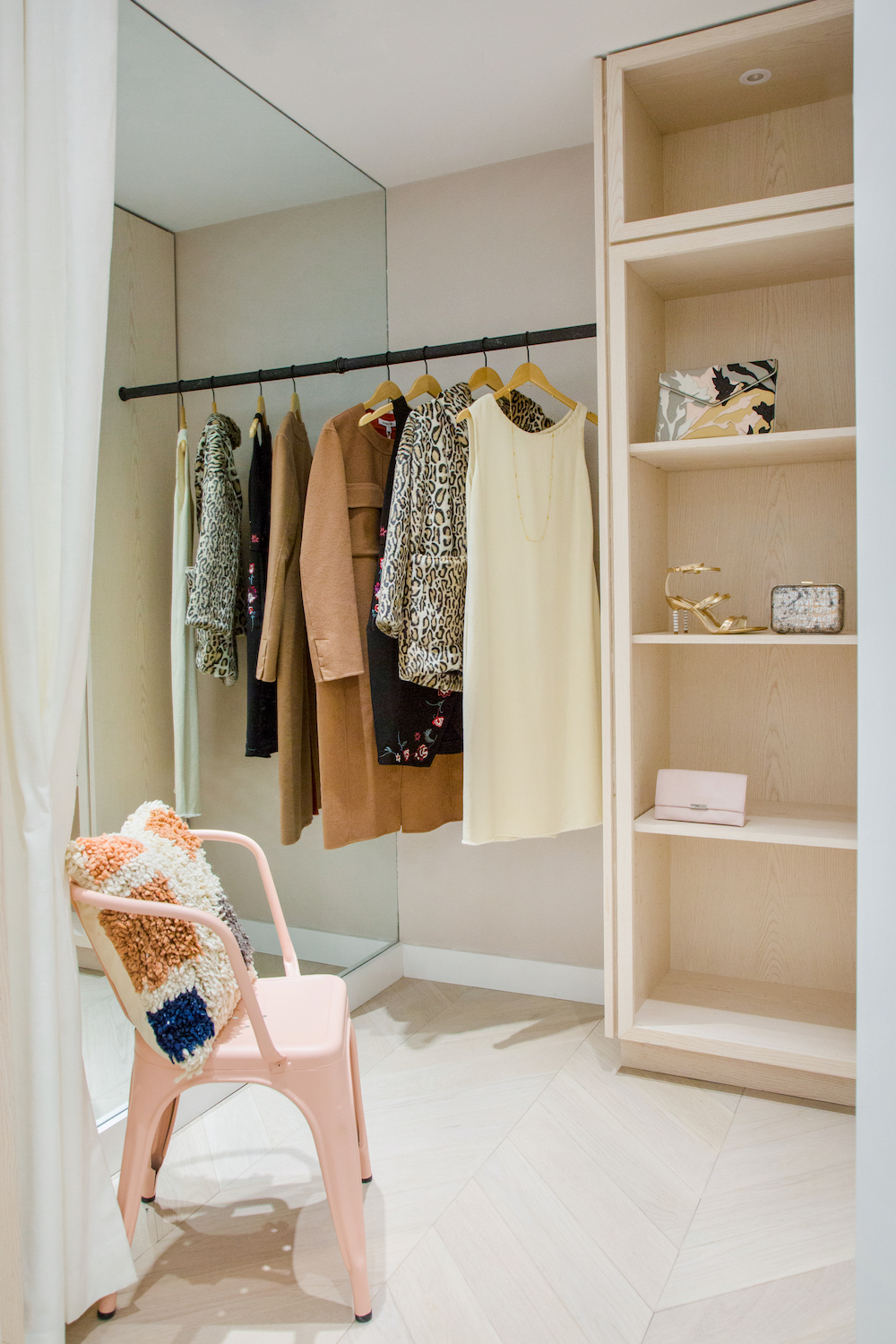 Everything about this store is absolutely gorgeous. We love the attention to detail and can't wait to swan about in there while looking for the perfect ensemble!
From December 7th to December 23rd, Rent the Runway will have fun, special events with partner brands at the RTR Bar! They'll be transforming it into a makeup bar courtesy of Blushington, a barre class courtesy of Pure Barre, a massage bar courtesy of Bliss, a treat display from Dylan's Candy Bar, and a juice bar courtesy of Pressed Juicery, among many other surprise and delight services!
If you're hungry, friends from Chobani, Sweetgreen, and Maple will provide "lunch breaks" at the store throughout that time.
Rent the Runway is opening December 6th at 30 West 15th St. Happy shopping!