Remembering the burning of Black Wall Street, because you probably didn't learn about this tragic massacre in your U.S. History class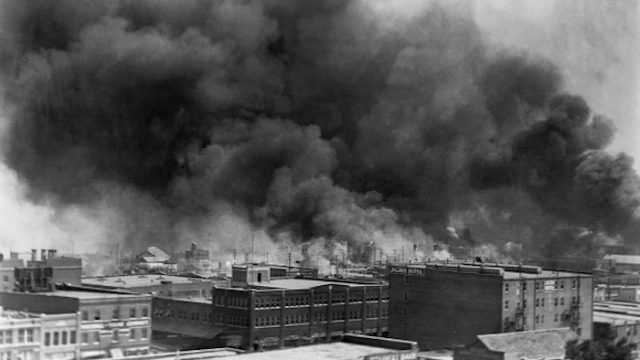 February is Black History Month.
As a young Black girl growing up in Detroit, my world was a constant celebration of Black culture. Life in a major metropolitan city heavily populated by accomplished Black men and women taught me the meaning of Black excellence early on. In newspapers and online media, Black business owners and political leaders were celebrated. Local radio stations offered an ample supply of old and new soul, hip hop, and R&B hits. In school, our books were saturated with stories of the colorful history of African culture in America, both pre- and post-slavery.
However, we aren't all lucky enough to receive this kind of education. In February, Black History Month recognizes the achievements, struggles, milestones, historical contributions, and hard-fought battles of Black Americans — something that is often overlooked in the American history students are likely taught in school. Without education and discussion about the rich history and stories of Black heritage in America, and without cultural celebrations like Black History Month encouraging these conversations, that history is lost and forgotten.
One important but often overlooked piece of American history is the burning of "Black Wall Street."
This historical part of Tulsa, Oklahoma, the Greenwood District (i.e. Black Wall Street), was home to the most affluent African-American community in the country. The area boasted a number of Black-owned businesses and a thriving residential community.
Even though I'd learned so much about Black culture in Detroit, I still had never heard of Black Wall Street or the 1921 Tulsa Race Riot until I moved to Oklahoma at age 16. For more than half of my life, I was completely uninformed about this significant historical event. It was not in my textbooks or in the Black History Month lessons I heard as a child. The 1921 massacre was widely unknown until 1997 when Oklahoma's government authorized the Oklahoma Commission to review the destruction.
https://www.youtube.com/watch?v=4oIeBwzYq1Y?feature=oembed
On the morning of June 1st, 1921, the Greenwood District was destroyed by a mob of armed white rioters who looted and burned the area to the ground.
The riot was a violent response to an interaction between a Black man and a white woman. Allegedly, Tulsan Dick Rowland, a Black man, had assaulted a white woman, Sarah Page, in an elevator — though there were conflicting reports of what actually happened between the two teenagers. It is commonly said, as reported by Greenwood Cultural Center, that "Dick Rowland tripped as he got onto the elevator and, as he tried to catch his fall, he grabbed onto the arm of Sarah Page, who then screamed." If accurate, the racist community and racist police then spun this into a rape accusation. False assault/rape accusations by white women and white communities were deadly injustices often experienced by innocent Black men (think Emmett Till and the Scottsboro Boys). Once the story reached newspapers, the city exploded with rage as armed white residents confronted Black residents.
Oklahoma Governor James B.A. Robertson declared martial law, and National Guard troops arrived in Tulsa. In the aftermath, at least 35 city blocks were destroyed, more than 800 people were treated for injury, and, according to historians, up to 300 people died in the riot. An exact death toll is unknown because so many murdered Black people were buried in mass graves, and no one was ever charged with a crime. false
Philosopher and poet George Santayana once said, "Those who do not learn from history are doomed to repeat it." Bringing to light obscure parts of American history, like the burning of Black Wall Street, is necessary to illuminate lessons of the past. Just as the beauty, complexity, and diversity of American culture — and Black culture — should be taught, so should America's pitfalls and mistakes. It's the only way we can learn and move forward to a more just America.