Remember that Barnes & Noble "meltdown lady" from 2011? Here's what ACTUALLY happened.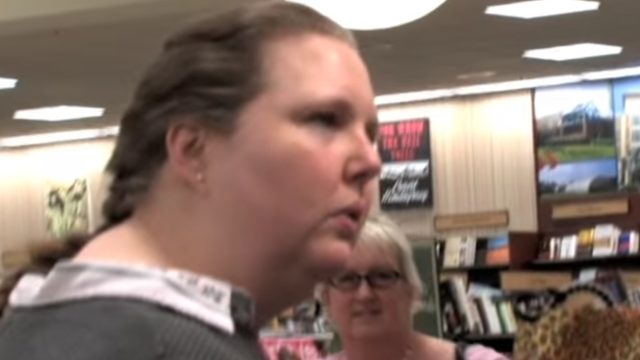 Let's be honest: It's really hard to skip over a video of someone absolutely freaking out. There is a sort of weird pleasure we get from watching someone else have a meltdown, especially if it's circulating the internet in the form of a viral video. With this in mind, you've probably found yourself watching the video of a "crazy chick" having a breakdown in Barnes & Noble in 2011. Is this video for real? Does anyone actually behave that way in public?
In case you've forgotten the details, here is the video in all of its glory:
https://www.youtube.com/watch?v=Uv7LwFPp3SY?start=4&feature=oembed
According to Vulture, the video is fake. That's right: the cashiers knew what was going on before it happened, and the "crazy" customer was an actress. According to Jon Bremner, the director, even Barnes and Noble was in on this.
Basically, Bremner wanted the entire thing to look as real as possible, which is why it was literally shot on a cellphone. The "crazy" customer is actually Celia Burnett, an actress, who essentially improved the whole thing. As Bremner tells it, even some of the people watching were actors, but there was a good amount of random customers there, too.
https://twitter.com/udfredirect/status/763752790950830080
Even the title was chosen to make you think the video was real. As Bremner explains to Vulture, "the title was very intentionally misleading to give it that viral punch. 'Crazy chick flips out in Barnes & Noble,' because that's what a cell-phone passerby would've labeled the video, as opposed to a production team that had thrown this together intentionally." Talk about authentic! (And yes, we do realize using "chick" to describe a woman is icky.)
Bremner tells Vulture that they don't know how many times the video has been viewed, but they know it's gotten about 25 million unique shares between Facebook and Youtube alone. He estimates that the video has probably been viewed between 40 and 50 million times total. Given how many times we've watched this video, we're willing to bet that number is pretty on the mark.