Reformation's second vintage collection just landed, and there are so many one-of-a-kind pieces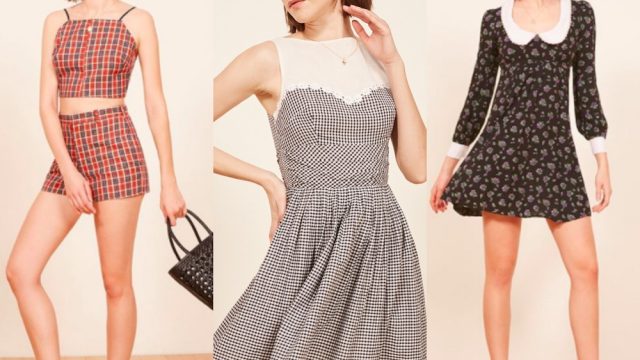 Reformation, the Los Angeles-based brand that singlehandedly made eco-friendly clothing sexy, has some exciting news for vintage shoppers. Reformation just launched its second limited-edition vintage collection online. It features 100 one-of-a-kind retro pieces that we're positively swooning over. Among the selections, you'll find a variety of vintage pieces, including band t-shirts and leather pants to delicate, retro mini dresses and polka dot two-pieces. (Read: goodbye paycheck.)
The first vintage collection from Reformation flew off the (online) shelves, and its latest collection is already doing the same. Prices in Reformation's second vintage collection range from $98 to $248, and are sold exclusively online. And you can feel good about your purchase (purchases?? We're not judging), because vintage is an uber-sustainable way to shop. (Reformation tells us in a press release that while over 99% of clothing in the U.S. can be recycled or reused, about 85% of it ends up in landfills.)
Considering there's only one of each, you're going to want to add your fave items from the new vintage collection to your cart ASAP. Fashion pieces are already selling out like hot cakes, so it's best to jump on whatever dress, tops, or bottoms speak to your heart.
https://www.instagram.com/p/Bgoa2X5hebV
However, if you live in NYC, the Lower East Side store (156 Ludlow St., NYC) will start to sell a handpicked assortment of vintage clothing weekly. If you missed out on a cute dress or grunge tee on the brand's site, you can always browse for one-of-a-kind pieces in-store.
Head on over to Reformation's site to see what goodies await you.