Reformation almost never goes on sale, but it's marked down at Nordstrom right now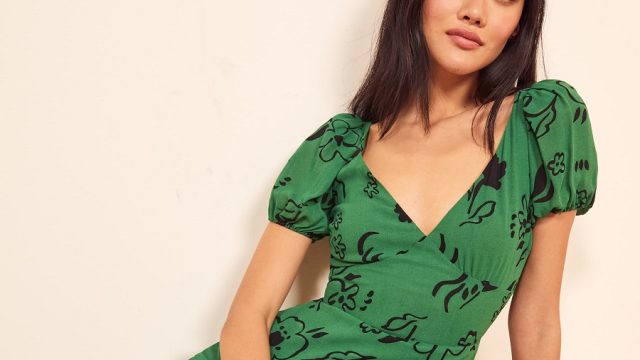 Reformation is not only a brand beloved by your favorite celebs like Taylor Swift and Priyanka Chopra (casual), but it also carries the kind of clothes that almost beg you to snap an #ootd pic. Their pieces—from flowy midi skirts and dresses to puffy-sleeved tops—are effortlessly feminine and always incredibly on-trend. But while the clothing from Reformation is super cute (and also size-inclusive, which we love), it rarely goes on sale. So, when it does, it's time to pounce. Seriously, people! This stuff is selling out, and quick!
Nordstrom just released new, rare markdowns on certain Reformation items. While many of them are ideal for spring and summer, some of these picks can be layered for the colder months and transition you throughout the year. We love a good, quality basic. Or, if you're still planning that warm-weather getaway for the holidays, these are great for that, too.
Check out a few of our favorite, recently marked-down Reformation items for Nordstrom, and get them while they're still in stock.
Reformation's best on-sale items at Nordstrom:
1Reformation Hyla Midi Dress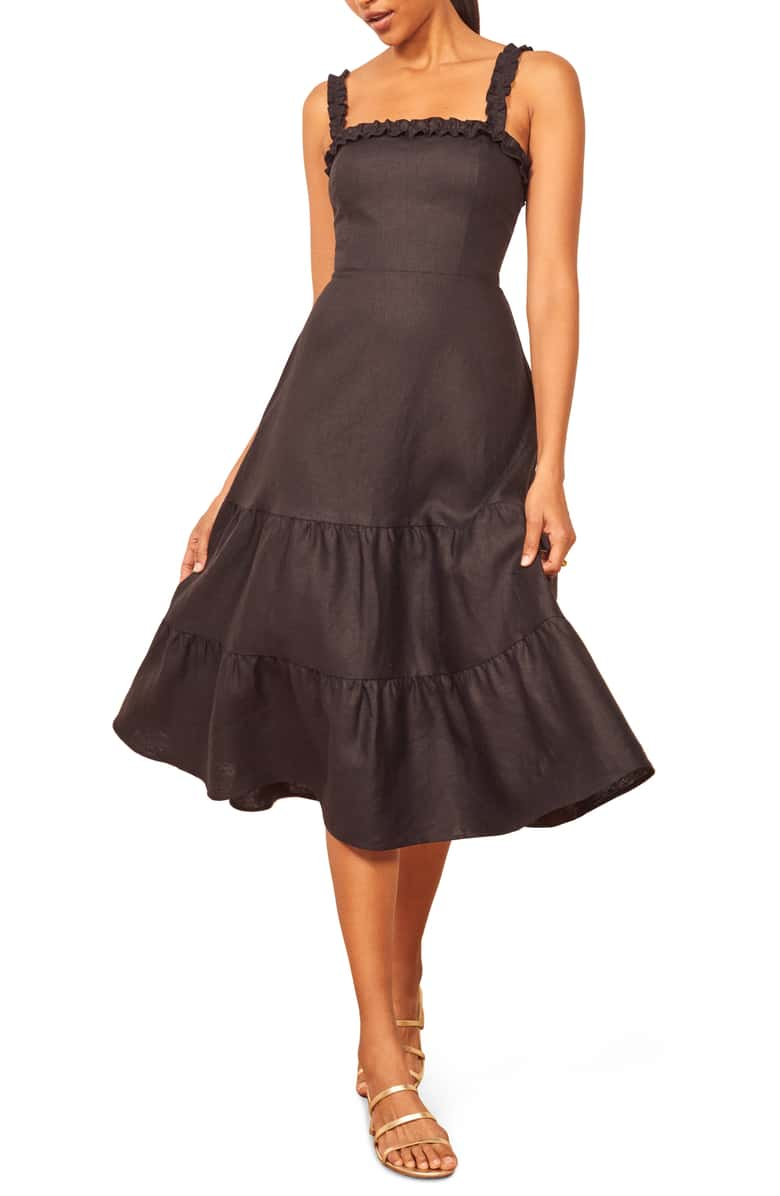 $104.39 (orig. $248)
Shop it
Nordstrom
A breezy, black midi dress like this one is your ultimate wardrobe staple. It even has charming ruffles on the straps and neckline and is complete with a ruffled hem.
2Reformation Carina Midi Wrap Dress
Hello, animal print, the trend of fall 2019 that we hope isn't going anywhere soon. Make a bold statement with this snakeskin print on its own or layer with an edgy leather or denim jacket.
3Reformation Romi Puff Sleeve Linen Top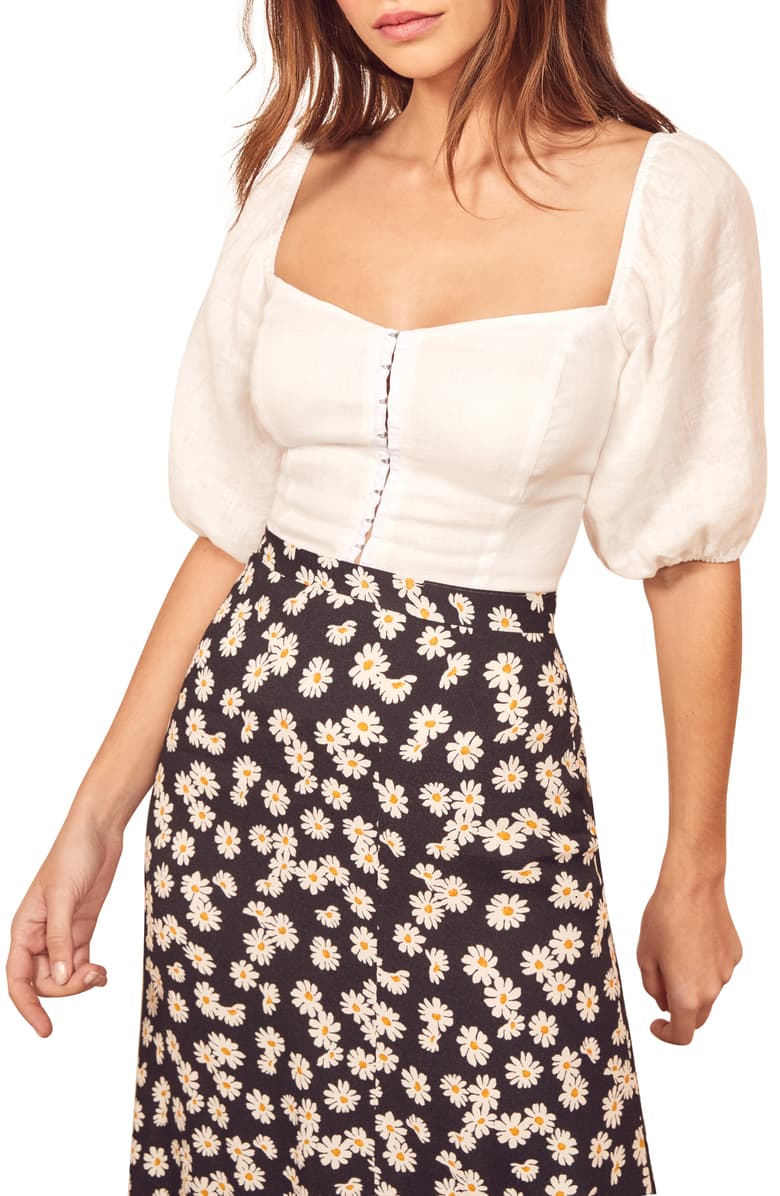 $88.80 (orig. $148)
Shop it
Nordstrom
The jury is in: Puff-sleeves are officially timeless (even if they feel a bit retro). This structured top looks just as stunning with a pair of jeans and booties as it does with a printed skirt and heels.
4Reformation Kacey Print Puff Sleeve Midi Dress
Hear us out: Printed midi dresses aren't just for spring. Layering one like this with a chunky sweater not only keeps you warm when the temperatures drop, but it makes the dress a transition piece you can keep in your closet all year long.
5Reformation Violet Blouse
$76.80 (orig $128)
Shop it
Nordstrom
Look work-ready in seconds with an airy blouse like this one. According to the site, it runs small, so make sure to order up a size and then pair with your favorite pair of high-waisted jeans.
6Reformation Lizzy Dress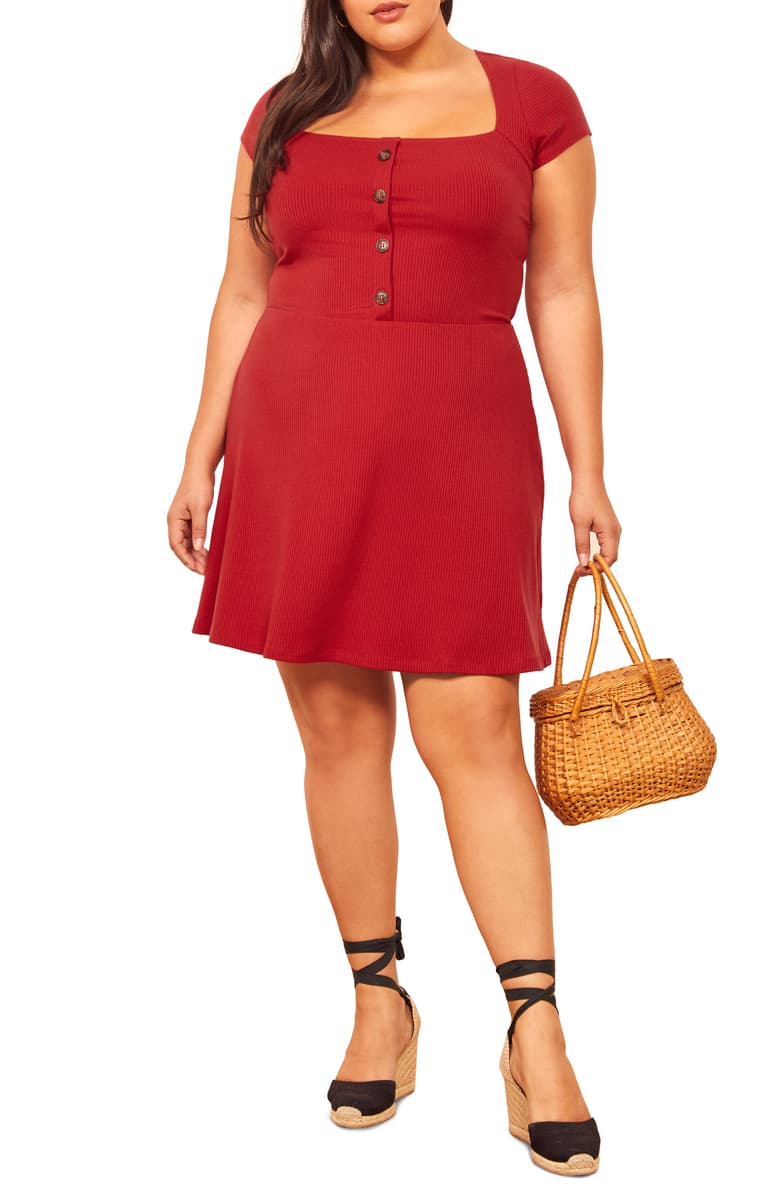 $46.80 (orig. $78)
Shop it
Nordstrom
Another wardrobe basic, this easy, square-neck dress will be your go-to style.
7Reformation Brianna Side Slit Linen Dress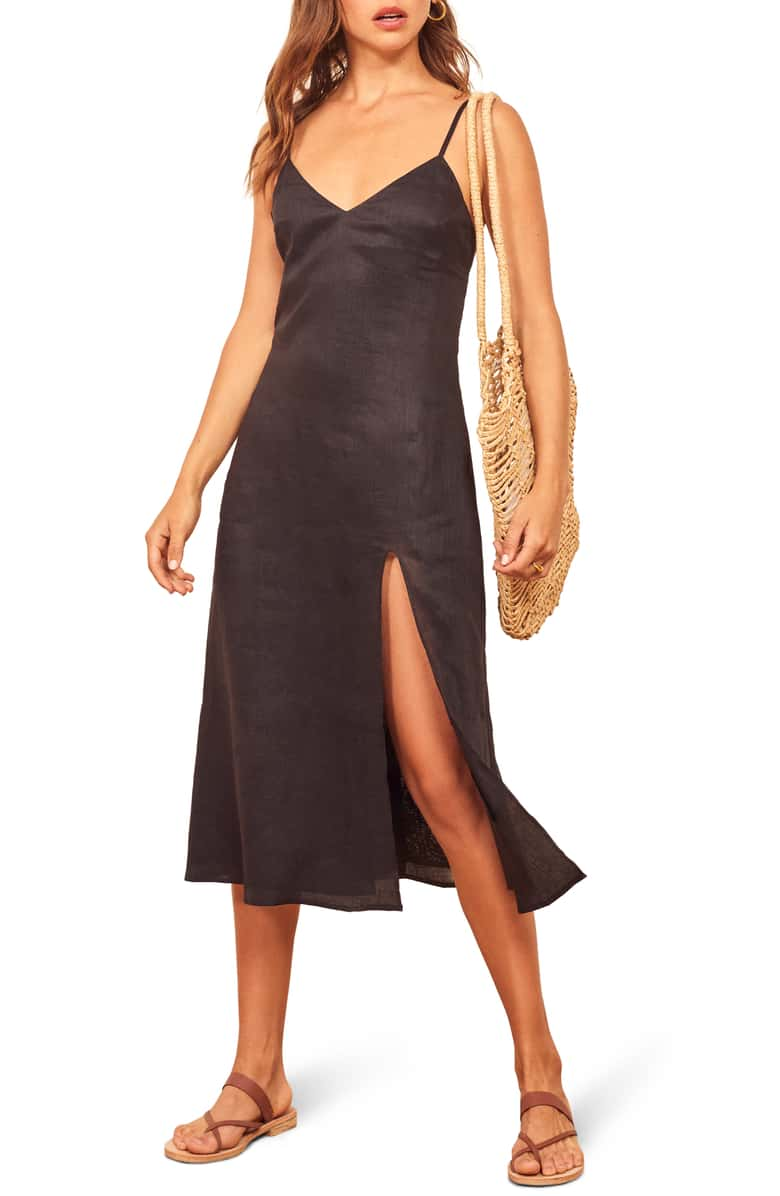 $56.32-$76.80 (orig. $128)
Shop it
Nordstrom
Layer this spaghetti strap stress with a T-shirt or long-sleeve underneath, or add a sweater on top to take you through the seasons.
Shop everything from the brand that's currently marked down at Nordstrom here, and be sure to snag your faves quickly because sizes are selling out fast.