Reformation is designing kids' clothes now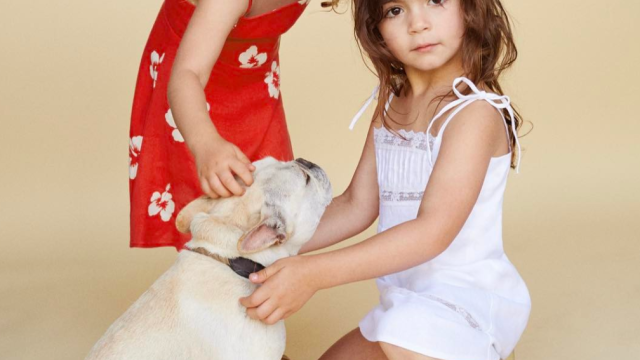 Your favorite socially conscious clothing brand, Reformation, is expanding into the kids' clothes category — and all we can say is heck yes. The brand shared a sneak peek at its "#reflittle" (cutest name ever) line on Instagram yesterday, and we're chomping at the bit to know more.
From the IG snap, we know that the new Reformation children's line will feature dresses we'd happily wear all summer long in adult sizes — including a white eyelet frock and a red, flower-print number — and that the line's campaign will include some adorable kids and an adorable French bulldog. So, it's an obvious win all around.
If you're unfamiliar with the favorite brand of every ~cool girl~ on Instagram, Reformation is actually pretty awesome. It's an eco-friendly brand that's highly transparent, sharing with consumers the ways it has reduced harm to the environment during production, and cutting/sewing all of its garments in a Los Angeles factory that pays a living wage.
Even Kristen Bell is a fan of the brand, telling HelloGiggles in an interview last month, "I really like Reformation. They have transparency in the sense that they have responsible manufacturing practices, but also they use sustainable materials and they use a lot of runoff materials."
She added,
"They tell you how much water and energy they've saved by taking however many hundreds of yards from another designer because it was just going to be trashed."
https://www.instagram.com/p/BSCOjwsFJ2C
We're fairly confident Kristen will be shopping Ref's "little" line when it's released, so you know you'll be in top-notch company.