Here are all the possible storylines Reese Witherspoon has in mind for "Legally Blonde 3"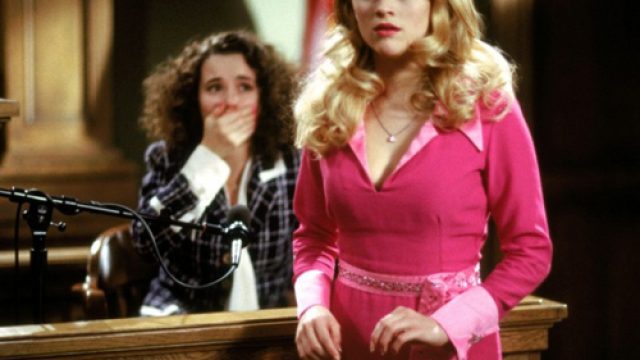 All you have to do is, bend and snap! Well, that's not all you have to do, but it is what Elle Woods would do. It's been way too long since we've seen Elle, and Reese Witherspoon has some possible Legally Blonde 3 story ideas to bring her back.
It's been 15 years since our favorite blonde law student first entered our lives, and we need more of her. Luckily, the star of the Legally Blonde films totally agrees.
On Wednesday, Witherspoon appeared on The Late Late Show with James Corden and talked all about a third movie.
https://www.instagram.com/p/BHzmppAgH0y
Even though she's not currently filming another sassy, law-centered film, the 40-year-old actress would be totally open to the idea.
"I think it would be kind of cool to see her 15 years later," Witherspoon told the show's host James Corden. "Like, what's she doing now? What do you think? I don't know. But I need a good idea."
Corden of course had a few ideas, mainly that Elle Woods could, and should, be the first female president of the United States.
https://www.instagram.com/p/BH0QIX1Arek
Hello, this would SO be a great story idea.
Elle in the White House? We don't object!
"She could, yeah," the Big Little Lies actress said before adding in her own ideas.
"She could be a Supreme Court Justice, or she could be a really great, powerful attorney — or she could be in prison!" Witherspoon suggested.
"She could be anything," she added. "I don't know!"
Okay, we're not exactly on board for the whole prison storyline.
Like Elle says, "whoever said orange is the new pink, was seriously disturbed!"
Other than that, Witherspoon's character as a Supreme Court Justice would be SO empowering and right up her alley.
Like all Legally Blonde fans, Corden got very excited about these answers. "Why isn't this film happening?" he asked. "What do we have to do to get this film over the line?"
https://www.instagram.com/p/BRrpknVhLrf
What do we have to do to make this film a reality? We need more Elle in our lives!
What do you think the blonde lawyer should do next?