Reese Witherspoon shares her kids' letters to Santa and it's giving us all sorts of nostalgic-y feels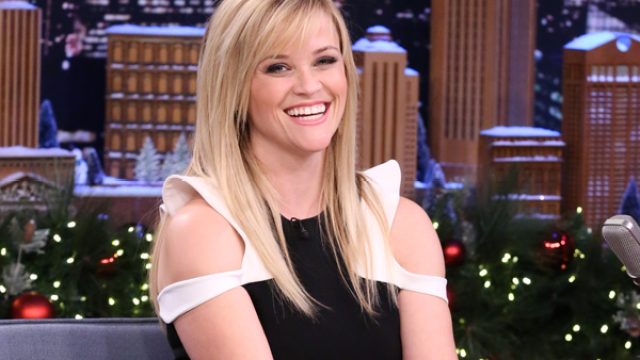 The best part of Christmas is how it reminds us of when we were kids and Reese Witherspoon's latest IG post really tapped into that. Sing actress, Reese Witherspoon shared her kids' letters to Santa on Instagram and really gets into the Christmas spirit over the weekend.
If there's one thing Witherspoon knows how to do besides act, be a great mom and design clothing, it's how to get into the holiday spirit. On Sunday, the Wild actress shared her latest Christmas venture — well her kids' task actually — on social media and it's so cute.
The 40-year-old actress posted a photo of a glimpse at her children's letters to Santa and the penmanship is remarkable.
"Letters to Santa complete 🎅🏼📝 To the #NorthPole they go! ❄️📍" Witherspoon captioned the letters photo.
https://www.instagram.com/p/BOLeDEqgiWK
While Witherspoon didn't disclose which of her three children, either Ava, 17, Deacon, 13, or Tennessee, 4, wrote the letter it's so cute.
"I have been a good boy," part of the letter reads. Okay, so it's not Ava's letter, but it could still be either Deacon or Tennessee's.
The letter also asked Santa about his living situation before mentioning broccoli and wrestling.
We know there are a lot of missing pieces here, but we love any letter to Santa.
Earlier in the day, the Big Little Lies actress did a little writing herself. Witherspoon wasn't writing to Santa — although we wouldn't put it past her — but instead was working on Christmas cards.
"When every holiday card takes 2+ hours to write … #SouthernProblems #OhMyStars ✨," she captioned the pretty picture.
https://www.instagram.com/p/BOLCb4jASme
In addition to letters, Witherspoon got festive on Saturday and attended a holiday party wearing a gorgeous red dress. She posed with her friend Shannon Rotenberg and the two looked like twins.
https://www.instagram.com/p/BOIzpXdg48a
Plus, the Southern Belle already shared a photo of her Christmas tree on social media and it looks ah-mazing.
https://www.instagram.com/p/BN3GKqUAy3E
Santa would definitely approve of all of these Christmas activities — and so do we!