Reese Witherspoon and Mindy Kaling eating pizza in their "A Wrinkle in Time" costumes is a big mood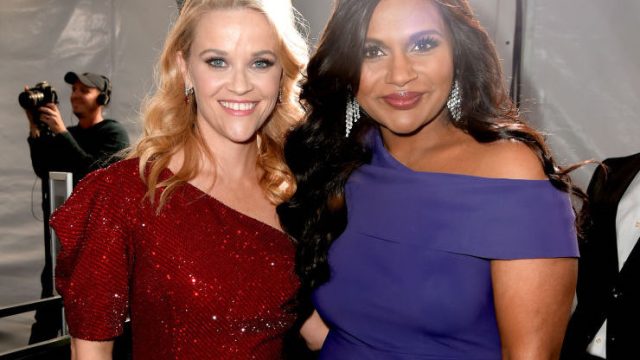 You ever see a photo and think it's goals or a major mood? Maybe it's a pic of an adorable, loving couple, or just a far-off destination you want to visit one day. Well, Reese Witherspoon just shared a snap of her and Mindy Kaling from the A Wrinkle in Time set that's the most relatable mood ever. Stars: They're just like us.
Okay, maybe we're not in a highly anticipated movie that's based on a classic book. And maybe we don't have any of the perks that come along with fame. But Witherspoon's pic features her and Kaling enjoying the one food that anyone can relate to: pizza. And it's not just that the two are eating a slice. They're happily chowing down in full hair, makeup, and the intricate costumes their characters wear in the film.
"That time @MindyKaling and I tessered straight to the planet that served up the best pizza," Witherspoon captioned the pic. Because who can't relate to going to the ends of the Earth to find a slice that's the perfect amount of cheesy, has the exact right crust, and is just a little bit oily?
https://www.instagram.com/p/BgJZY-fBWWb
In A Wrinkle in Time, a young girl named Meg travels, or "tessers," to different worlds where she meets characters like Mrs. Whatsit (Witherspoon), Mrs. Who (Kaling) and Mrs. Which (Oprah Winfrey).
Witherspoon shared another photo from set of her matchy-matchy look that few can pull off.
While green lipstick might be a major nay for many, she embraced the makeup and matching camo umbrella.
https://www.instagram.com/p/BgJzccCB1Ea
Kaling shared a set selfie of her own too.
We love their behind-the-scenes photos, but there's a real-life photo we currently can't get enough of.
A Wrinkle in Time star Storm Reid posted an Instagram pic on Friday, March 9th announcing that she and the film's director, Ava DuVernay, were popping up at theaters surprising filmgoers in New York City!
This movie and its stars are full of surprises.