Reese Witherspoon spilled details about her first-ever movie role in her Instagram walk down memory lane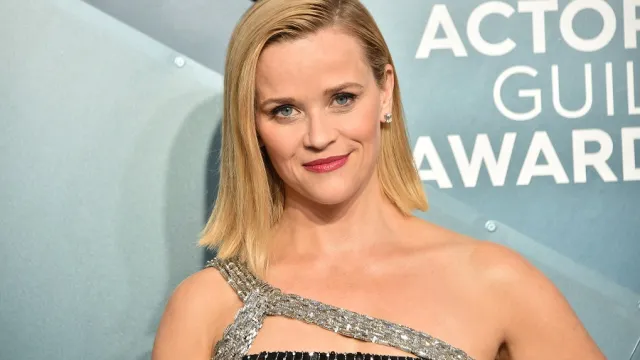 Reese Witherspoon has been a big-screen staple for nearly three decades now (!!)—which means she's been in our lives, for some of us, practically since we were born. And though she's now on the A++ list, she once started out as a teen actor working in commercials, hoping to get her big break in Hollywood. In a new video on IGTV, the Morning Show star took her followers on a trip down memory lane, spilling all the details about what it was like to film her first movie, a 1991 teen drama called The Man in the Moon that required a skinny-dipping body double and her first on-screen kiss.
Witherspoon revealed how she landed the role, what it was like to film, and how she had to go back to high school like a normal kid after doing a press tour and walking her first red carpet.
She said she knew she wanted to be an actor from when she was a young child, even though her parents worked in the medical industry—seemingly the opposite world from her movie star dreams. She first landed a flower commercial and then began taking acting classes, when she saw an ad in her local paper looking for a 14-year-old girl to star in a movie. Naturally, she auditioned, before being asked to fly to Los Angeles for a screen test a month later.
https://www.instagram.com/p/B2o9cOug9MA
Overwhelmed by seeing palm trees and the Pacific Ocean for the first time, the Nashville native flew home after a long day of auditions, chalking it up to a "great experience." She was then asked to audition with the film's director, Robert Mulligan, which must've ultimately sealed the deal, because she got the job.
Witherspoon spent the summer before her freshman year of high school filming, and she called it "the most magical experience." She added, "I learned everything I needed to know about being a film actor, how to hit marks, how to perform for a camera, how to get emotional."
https://www.instagram.com/p/B0EIlOCAgfK
But it didn't all go smoothly. Reese had her first movie kiss with Jason London, which left her feeling "embarrassed." (Relatable!)
Even more embarrassing to her? Because her character was a "tomboy," London had to teach her how to make her run in a way that looked more "athletic." She even had a skinny dipping scene, and even though a body double was used, she recalls feeling "mortified" over the whole thing.
"I had to kiss a boy onscreen for the first time, and I was 14 years old and I was so embarrassed, she said. "And I had to do a scene where I was supposed to be skinny dipping, and they had a nude double for me and that was so mortifying when I was 14. Even though I wasn't doing it."
Then, when the movie was released, the Big Little Lies star got to go on her first press tour and get dressed up (in a velvet dress with daisies and cowboy boots, obviously!) for her first big premiere, where she was starstruck by seeing Arnold Schwarzenegger in person. But her parents still made her go back to high school, until summer break when she was able to continue filming movies, with one even taking her to Africa at 16.
Of the experience, she says, "I'm forever grateful to the people who got me that job, because it changed my entire life." She's "really proud" of the movie, and encouraged her fans who haven't seen it to check it out. We love that she shared these throwback memories with us and we're fully going to stream The Man in the Moon this weekend. We'll grab the popcorn, you grab the cowboy boots.