Reese Witherspoon was as surprised as we were to learn Big Little Lies' connection to Hannah Montana
On yesterday's episode of Miley Cyrus's "Bright Minded" Instagram talk show, Cyrus was joined by Reese Witherspoon, who talked about quarantining with her husband and three children, what films are getting her through social distancing, and supporting women-owned small businesses right now. But the interview really took off when Cyrus blew Witherspoon's mind with the bizarre connection between Hannah Montana and Big Little Lies.
If you're hunkering down with Witherspoon's HBO series Big Little Lies, then you might recognize a certain landmark in the show. "I don't know if you knew," Cyrus said to Witherspoon, "but Madeline Martha Mackenzie [played by Witherspoon] and Hannah Montana lived in the same house."
We are all Reese Witherspoon's "HUH?" face right now.
"Maybe even at the same time," Cyrus teased. "There might be a plot twist here that you actually had a roommate—that you lived with Hannah Montana." Witherspoon yelled, "I knew I knew that house from somewhere!"
The proof is in the pudding, y'all: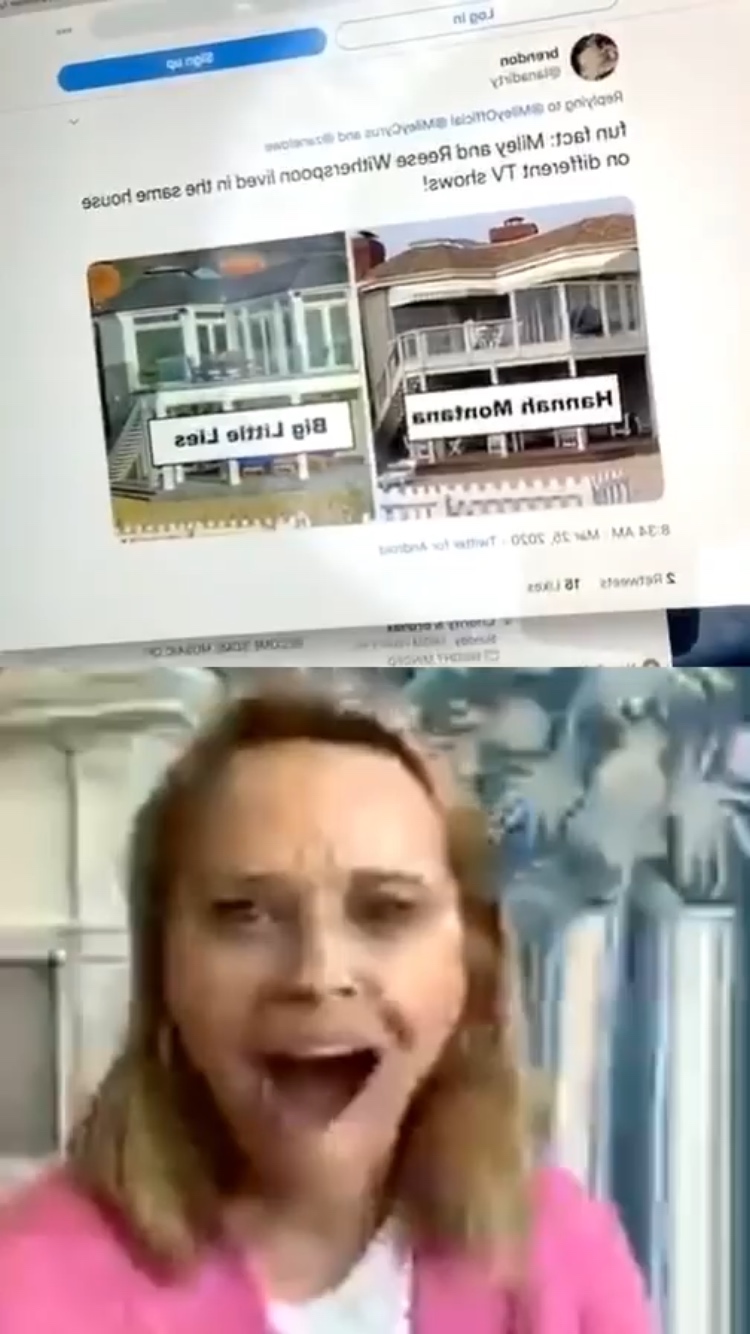 Although the house has had many different vibes, Witherspoon confirmed that there are a lot of "good vibes" at the house. Having been home to two iconic characters, how could there not be?
Witherspoon also opened up about having her daughter, Ava, home from college to bring the entire family under one (quarantine) roof.
"I have a seven-year-old and I have a 16-year-old and I have a 20-year-old," Witherspoon explained, noting that her kids are at different stages, so the quarantine has been difficult. "My daughter came home from college…She had all this independence, and she was living her own life, and now she can't see her friends. And my 16-year-old son is here at home. He can't see his girlfriend, he's feeling really isolated. And I have a 7-year-old who is so happy because their brother and sister are home all day."
https://www.instagram.com/p/B-LlG-vpkuc
The secret to making this under-one-roof-all-the-time dynamic work is giving each other space, setting rules, keeping a positive attitude—and watching really good movies. Witherspoon shared her must-see flicks, which include Thelma & Louise, Raising Arizona, Mrs. Doubtfire, Overboard, and Defending Your Life.
We're now adding these movies—and both Big Little Lies and Hannah Montana—to our re-watch list. We truly cannot believe we missed this connection.
As information about the coronavirus pandemic rapidly changes, HelloGiggles is committed to providing accurate and helpful coverage to our readers. As such, some of the information in this story may have changed after publication. For the latest on COVID-19, we encourage you to use online resources from CDC, WHO, and local public health departments, and visit our coronavirus hub.