Here's who the Red Woman in "Game of Thrones," Carice van Houten, thinks is the "Prince Who Was Promised"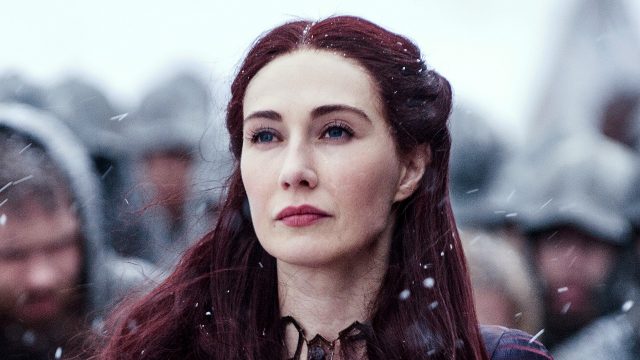 Those of you who are fans of Game of Thrones and love a prophecy or two will be as curious as us about who the "Prince Who Was Promised" may actually be. And now the Red Woman herself, Melisandre (aka Carice van Houten), has thrown her hat into the ring with a guess of who the fated prophecy could be about.
*WARNING: Spoilers for Game of Thrones Season 7, episode 2 below*
If you're all caught up with GoT,then you'll know that there was a bit of a revelation for Daenerys in the episode. While hiding out in Dragonstone to figure out her next move, the Mother of Dragons is paid a visit by none other than Melisandre, also known as the Red Woman.
During this visit, Melisandre informs Daenerys about the prophecy of the "Prince Who Was Promised," who will help "bring the dawn" once the "long night" comes.
We know that Melisandre has previously touted Stannis Baratheon and Jon Snow as this Prince, but it seems she might now have her eye on another potential vessel for the prophecy: the Mother of Dragons herself.
Of course, Dany says that the prophecy can't be about her because, well, she's not a Prince. However, she's informed by Missandei that, in the original High Valerian it was uttered, the word "prince" is actually genderless, meaning the prophecy could be about a woman, too.
Meaning Dany isn't out of the game yet.
Now, speaking to Variety about the show, van Houten has offered up her own theories about who the prince or princess may be.
"It's a lottery at this point," she said. "Anything can happen in this show. I would like to live in a world where it could be Samwell Tarly, but that's probably not going to happen. I have a feeling that Tyrion might have a chance. And Jon, I don't know. It would be weird if he was to be killed again."
Hmm…interesting.
Meanwhile, van Houten noted that the show's female characters seem to now be in charge, marking a shift from Game of Thrones' first season.
"That's part of the strength of the show I think. It's really great," she said. "If only for that I'm happy to be part of this show. It's necessary. We need good female roles. Heroes that are females and interesting complex characters that are just superficial."
There is so much to think about now with this revelation, and we're counting down the seconds until Game of Thrones is back with a new episode next Sunday. Although we have a feeling this might be one mystery that remains hidden until the very end.